Mudumalai Wildlife Sanctuary is situated between the route from Mysore to Ooty. This route runs for a part of the way along the banks of the river Moyar. 'Mudumalai' means 'the ancient hill range'. Mudumalai Wildlife Sanctuary is located in the Nilgiri Hills at a height of 1000 m. This sanctuary covers an area of 321 square km.
Wildlife Attractions in the Mudumalai Wildlife Sanctuary
Mudumalai Wildlife Sanctuary has a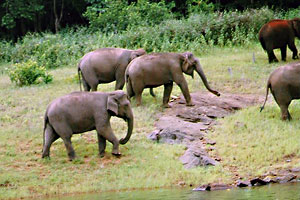 variety of fine habitats which ranges from tropical evergreen, moist deciduous and teak forests to grasslands and swamps. Various wildlife animals like deer, Chital or Spotted deer, Sambar, Barking Deer and elephants can be seen throughout the sanctuary. Whereas, the great predators like the tiger and leopard are rarely visible, the wild dog or dhole can be seen occasionally. The other animals which can be seen in this sanctuary are Jackal, Hyena, Wild cat, Civet cat, Bonnet macaque, Langur, the giant squirrel and flying squirrel. Besides various animals, various birds are also found in this sanctuary which includes the Malabar Trogon, the Malabar Hornbill, the Malabar Grey Hornbill, the Great Black Woodpecker, the Crested Hawk Eagle, Crested Serpent Eagle, Owls, Barbets, Parakeets, Minivets, Jungle fowl, Peafowl, etc.
Jungle Safari in Mudumalai Wildlife Sanctuary
You can visit the sanctuary either by having an elephant or a jeep Safari. A guide will always accompany you during the safari in the park. Besides the jeep or elephant safari you can also move around in the park in the private vehicles.

Best Time to Visit Mudumalai Wildlife Sanctuary
The best time to visit the Mudumalai Wildlife sanctuary is from March to June.

Other Attractions in Mudumalai Wildlife Sanctuary
Various other picturesque places in the sanctuary are the Moyar Waterfalls, Ombetta Swamp, Theppacadu Elephant Camp, etc.

How to reach Mudumalai Wildlife Sanctuary
By Air:
The nearest airport is located at Coimbatore which is about 160 kms.

By Rail:
The nearest railway stations are located at Ooty and Mysore.

By Road:
The Mudumalai Wildlife Sanctuary is easily accessible by road from Ooty via Kalhatti (36 m) and Gudalur (67 km) and also from Mysore and Bangalore.