Welcome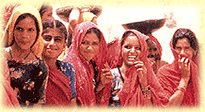 Rajasthan Tours - Most visited Destinations of India
Rajasthan is one of the most fascinating regions in India, with one of the oldest civilizations and extremely rich cultural heritage. The State of Rajasthan ........


North India Tours
The Northern part of India is full of diversities and wonders. North India has got its brilliant past and lively present in the form of forts, palaces and temples.....


East India Tours
East India comprises of 10 states mainly West Bengal, Sikkim, Orissa, Bihar and some of the North eastern Hill States. They all lie in the eastern part of India....


South India Tours
South India is made up of 4 states mainly Andhra Pradesh, Karnataka, Kerala and Tamil Nadu. South India is famous for its natural beauty and rich cultural....


Kerala Tours
Kerala, the god's own country is situated on the south western tip of India. Kerala is one of the famous tourist destination in Asia and offers everything to the tourists. Welcome.....


Gujarat Tours
Gujarat is one of the most diverse states in India. The state of Gujarat is known all over the world for its holy temples, historic capitals, wildlife sanctuaries, ......


Kashmir Tours
The Himalayan Valley of Kashmir is known all over the world for its beauty and charm. The Jammu and Kashmir state is a very large State & comprises of three distinct regions....


Himachal Pradesh Tours
Himachal Pradesh is situated in the heart of the western Himalayas. Shimla, a beautiful hill station is the state capital of the Himachal Pradesh is Shimla, largest city .....


Ladakh Tours
Ladakh is among the most beautiful places in the world which is situated at a height of 3513 meters above sea level. Ladakh is situated on the western end of end of the .....


NorthEast India Tour
The partition in 1947 was greatly responsible for the region's separation from India, but the tourism has been recently promoted in the north-eastern....


Sikkim Tours
Within its area East India encapsulates some of the most striking contrasts in the sub continent. Sikkim has so rich of flora, fauna and diverse population as no .....


Nepal Tours
Nepal, the only Hindu kingdom of the world is situated between Tibet and India. Kathmandu is the cultural and political centre of Nepal and is magnificent for its wealth of unique .....


Bhutan Tours
Bhutan is among the most beautiful places in the world with its neighbors India and China. Its official name, Druk Yul means "Land of Thunder Dragon", portrayed on the flag....


Tibet Tours
Tibet is a homeland of six million people. The significance of Tibet landscaping is not only the earth's highest mountains but also a vast arid Plateau and majestic river valleys....


Adventure Tours
The adventure tours are the best way to explore the unexplored regions in India. In these tours you will travel to the exotic mountain valleys, experience ....


Bird Watching Tours
Bird Watching means the activity of observing birds in their natural habitat, where one can identify the birds and understand ....


Wild Life Tours
The wildlife sanctuaries enables one to view the most unique animals and birds existing in India and also have some close encounter with them. Ask us for your tailor made....
Poovar Island Resort - Trivandrum
Information about Poovar Island Resort
Enveloped in serene Kerala backwaters, flanked by the Arabian Sea on the East and the majestic towering Ghats to the West, opening out to the ocean and a dream golden beach, Poovar Island Resort is a tropical paradise. Swaying coconut palms, endless golden sands, the ultramarine of the ocean, emerald backwaters, crimson sunsets and lush green vegetation create a magical ambience around you. It is the ideal remote getaway location for a quiet holiday in spectacular natural surroundings. You can choose between floating cottages and land cottages for accommodation and enjoy a boat cruise along the palm-fringed shores of bewitching backwaters.
Accommodation at Poovar Island Resort
Poovar Island Resort has 78 cottages offering a range of accommodation options. 56 rooms can be used as triples. The bathrooms come equipped with Jacuzzis, bathtubs or rain showers. 48 rooms come with a hammock in the terrace.(78 rooms - 39 Land Cottages, 10 Ayurveda Land Cottages, 05 Superior Land Cottages, 08 Premium Cottages, 12 Floating Cottages & 04 Ayurveda Floating Cottages.

21" Colour TV with Satellite Channels. Air conditioning. Clock and Radio. Hair Dryer Iron / Ironing Board on Request. Lounge Chair / Ottoman. Mini Bar. Smoke Detector. Telephone with International Direct Dialing. Writing Table and Chair. Fan. Digital Safe. Tea / Coffee Making Facility
| | |
| --- | --- |
| | |
| | |
| | |
| | |
Restaurant at Poovar Island Resort
The culinary treats conjured up by our master chefs evoke a passionate response. Every meal is a feast fit for the Gods. As for ingredients, nothing less than the very best will do; fresh catch from the sea, exotic spices, orchard-fresh fruits and vegetables.

Restaurants
Tiffins
Our main restaurant can seat 62 persons. The multi-cuisine restaurant offers a delectable choice of Continental, Asian, Indian and Kerala cuisine to choose from. After all variety is the spice of life, isn't it? At Tiffins we take pride in the state of the art kitchen we have installed. It is an ideal venue to satiate every gastronomic need.

Ayurveda Restaurant
Our specialty Ayurveda Restaurant complements the treatments of the Ayurveda Centre. It serves vegetarian food.

Pool Bar
Poovar Island Resort has a special sunken Pool Bar at the Swimming pool. Enjoy your favourite drink, beverage or fruit juices while soaking in the water. The Pool Bar is open from 07.00 to 19.00 hours.
Ayurveda at Poovar Island Resort
Ayurveda or the 'science of life' is a system of traditional medicine native to the Indian sSubcontinent. It can be referred to as the ultimate antidote to the ravages of today's hectic lifestyle. Developed in India over thousands of years ago, it is the art and science of better living through the perfect harmony of mind, body and soul. At Poovar Island Resort we have created the perfect ambiance to enjoy, understand and absorb the ancient remedies of Ayurveda. We have an exclusive Ayurvedic treatment and rejuvenation centre; 'Ayurveda Village' - with all the facilities and a medicinal 'Herbarium' - providing effective and long-term benefits of Ayurveda.

The 'Ayurveda Village' is one of the few places where this 6,000-year-old ancient health-care system is still practiced in its purest form. We have a team of experienced doctors and masseurs, who apply the traditional know-how with care, at the right places to maximize the healing potential. We offer a thoughtfully crafted package of therapies designed to relax, refresh and rejuvenate you. Guaranteed to make you not only feel younger but also look younger!

Our focus is to establish prime health in our visitors, be it physical, mental or spiritual. This is achieved by establishing energy equilibrium in the functions of the body temperature and simultaneously through an alteration in lifestyle in conformity with the simple laws of nature.

Rasayana Chikilsa (Rejuvenation Therapy), Panchakarma Sodhana Chikilsa (Body Purification Program), Kayakalpa Chikilsa (Body Immunization Therapy),Mana Swastha Chikilsa (Stress Management Therapy), Medodhara Chikilsa (Weight Loss Program), Degenerative (chronic) Joint problems, The Diet at Poovar Island

Yoga and Meditation Programs
No ayurvedic program is complete unless it is supported by a well structured Yoga and meditation program. We have a highly skilled Yoga Guru who conducts daily classes. Special needs and private classes can also be arranged by prior appointments.

Ayurveda Floating Cottages Facilities
Four specially designed eco-friendly Ayurveda floating cottages provide you unique accommodation.

6,000 square foot centre with 10 treatment rooms, Six rooms equipped to handle traditional Kerala Ayurveda treatment,
Three rooms with steaming facilities, Two full time doctors, 12 female and eight male therapists, 8 Superior Ayurveda Land Cottages
2 Ayurveda Suites, Specialised restaurant serving Ayurveda cuisine
Facilities at Poovar Island Resort
The Poovar Island Resort provides a comprehensive range of facilities to ensure your complete satisfaction.
Our facilities and services for our guests include:

Hotel Facilities

Library, Fully Equipped Gym, Health and Reflexology Massage Centre, Shopping Boutique, Foreign Currency Exchange, On Call Doctor, Children's Menus, Children's High Chairs, 24-Hour Room Service, Interconnecting Rooms, Rollaway Beds on Request,
Rooms with Balcony / Terrace, Sun Beds, Wheel Chair Accessibility, Kiddies Pool, Beach Volleyball, Indoor Games,
Wake Up Service, Life Guard, Free Beach / Pool Towels, 24-Hour Security, Bicycles on Rent, Porter Service, 24-Front Desk, Airport Pickup / Drop Free Baggage Handling, Our staff speaks English, Hindi, Malayalam and Tamil.
How to reach Poovar Island Resort
Nearest Airport: Thiruvananthapuram (Trivandrum) International Airport: 30 km from Poovar Island Resort.
International Flights:
Airlines
Ex -Europe/ Middle East / South East Asia
Sri Lankan Airlines
Kuwait Airways, Qatar Airlines, Air India, Gulf Air and Silkair
Emirates Airlines (Details to be checked with local travel agent)
You could also travel to Kerala via Chennai, Bangalore, Bombay or New Delhi.
To enable us to send you the rates of the Ayurveda packages of the above resort, we need to have the number of participants and the dates from you. (Query)