Welcome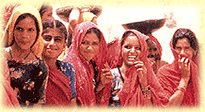 Rajasthan Tours - Most visited Destinations of India
Rajasthan is one of the most fascinating regions in India, with one of the oldest civilizations and extremely rich cultural heritage. The State of Rajasthan ........


North India Tours
The Northern part of India is full of diversities and wonders. North India has got its brilliant past and lively present in the form of forts, palaces and temples.....


East India Tours
East India comprises of 10 states mainly West Bengal, Sikkim, Orissa, Bihar and some of the North eastern Hill States. They all lie in the eastern part of India....


South India Tours
South India is made up of 4 states mainly Andhra Pradesh, Karnataka, Kerala and Tamil Nadu. South India is famous for its natural beauty and rich cultural....


Kerala Tours
Kerala, the god's own country is situated on the south western tip of India. Kerala is one of the famous tourist destination in Asia and offers everything to the tourists. Welcome.....


Gujarat Tours
Gujarat is one of the most diverse states in India. The state of Gujarat is known all over the world for its holy temples, historic capitals, wildlife sanctuaries, ......


Kashmir Tours
The Himalayan Valley of Kashmir is known all over the world for its beauty and charm. The Jammu and Kashmir state is a very large State & comprises of three distinct regions....


Himachal Pradesh Tours
Himachal Pradesh is situated in the heart of the western Himalayas. Shimla, a beautiful hill station is the state capital of the Himachal Pradesh is Shimla, largest city .....


Ladakh Tours
Ladakh is among the most beautiful places in the world which is situated at a height of 3513 meters above sea level. Ladakh is situated on the western end of end of the .....


NorthEast India Tour
The partition in 1947 was greatly responsible for the region's separation from India, but the tourism has been recently promoted in the north-eastern....


Sikkim Tours
Within its area East India encapsulates some of the most striking contrasts in the sub continent. Sikkim has so rich of flora, fauna and diverse population as no .....


Nepal Tours
Nepal, the only Hindu kingdom of the world is situated between Tibet and India. Kathmandu is the cultural and political centre of Nepal and is magnificent for its wealth of unique .....


Bhutan Tours
Bhutan is among the most beautiful places in the world with its neighbors India and China. Its official name, Druk Yul means "Land of Thunder Dragon", portrayed on the flag....
Shreyas Retreat - Bangalore
Information about Shreyas Retreat
Recognized as one of the finest Yoga retreats in the world, Shreyas is dedicated to promoting the authentic spiritual tradition of Yoga, in an environment normally associated with an exclusive star hotel. We endeavour to embody the spiritual tradition of Athithi devo Bhava (serving the Guest as an embodiment of the Divine) and the staff at Shreyas are trying to practice all facets of Yoga in their daily lives. At Shreyas, you get a unique insight into Yoga, irrespective of whether you are a beginner or have practiced for many years.

Shreyas is situated in Bangalore, India where the emphasis is to live an ashram style life (daily yoga, meditation sessions, chanting classes, organic vegetarian food, a no-alcohol policy, community service, farming etc.) in private, serene and "simply" luxurious accommodation and facilities. In a typical Yoga Retreat, guests practice different facets of Yoga - for physical strength, balance and flexibility, for physiological & therapeutic benefits and if they are interested, for pursuing a spiritual path through various types of meditation.

You can also interact with the village community, participate in local activities and get an insight into their lives. A popular Voluntourism exercise is for guests to farm in our organic agricultural garden, join our chefs to help cook and then serve the food to village school children. You will be amazed how much you will learn from them.
Accommodation at Shreyas Retreat
Shreyas is very inspired by the Indian spiritual practice of looking deep within the Self for answers to questions of existence and being. We are dedicated to helping our guests achieve a perfect balance in body, mind and spirit, through the medium of Yoga, which is non denominational and open to people of all faiths. We demonstrate through our various customised packages and retreats that contrary to popular belief - Yoga can be practiced by everyone. Yoga has an amazing effect on our body and mind energies allowing us to deal with life's bouquets and brickbats with sense of equanimity. We appeal to those who wish to understand/familiarise themselves with the philosophical tradition of India, without necessarily delving into its organised religious aspects.

Rooms: Shreyas has 14 exclusive rooms that can accommodate a maximum of 25 guests on a sharing basis.

Cottages: 3 en-suite Poolside cottages The Poolside cottages with en-suite bathrooms overlook the signature Antique-Pillared entrance, Infinity Pool & Jacuzzi and the central courtyard of the retreat

One 3-bedroom Garden cottage (each room with it's own en-suite bathroom) and a large living room is designed for a group of friends who wish to share the experience in close proximity of each other.

Tens: 8 elegantly designed rooms with tented canopies are set amidst the trees and flowering shrubs. Each cottage accommodates two people, has an en suite bathroom that open onto a private walled courtyard and a shady verandah with outdoor seating. The 'tented' Garden Cottages, spaciously scattered across the property are surrounded by lush vistas of greenery. In the lap of nature, you may sight a visit from a friendly squirrel or frog in your open-air bathroom.

Rooms Amenities: All rooms and tents are air conditioned, have ISD/STD lines as well as complimentary Broadband Internet connections. Other amenities include electronic safe, hair dryer, ceiling fan, electric kettle with a selection of teas, bathrobes, toiletries, slippers and writing desk with chair. The en-suite bathrooms have glass-enclosed showers, not bath tubs.
Ayurveda & Yoga at Shreyas Retreat
The Rejuvenation Spa & Massage Centre
The comfort, warmth and reassurance of touch at spas can improve the body's well being by stimulating its own natural healing abilities, giving a sense of well being and restoring both the physical and psychological self.
Massages at the spa at one of India's the best known yoga boutique retreats, offer the ideal solution to these damaging effects of accumulated stress and aids in harmonizing a troubled body and mind. Touch is a simple means of communication, comfort and something that we all do quite naturally. With a little willingness and commitment this 'natural' talent can be turned into a creative skill. Regular massage strengthens and tones the entire body system. It can stimulate or alternately calm the nervous system, help ease tension, stiffness and pain leaving the recipient with an enhanced sense of well being.

Yoga restores balance into our lives, resolves our inner conflicts, enables total excellence and allows us to fulfill our potential to become complete human beings. Often misunderstood to be simply a set of physical exercises, Yoga philosophy transcends all ritualistic religion and can be practiced by anyone.

In the Indian tradition of Yoga, life is a journey of experiences that leads us to discover Shreyas ("all round excellence") inherent within us. As such, Yoga at Shreyas is much more than the traditional physical postures and our aim is provide numerous self discovery packages and retreats that aim to catalyze your thinking/living philosophy and harmonize it with the timeless wisdom enshrined within the Indian philosophical tradition.
Facilities at Shreyas Retreat
Outdoor Yoga & Meditation hall: Qualified yoga instructors will guide you through asanas (physical postures), breathing, awareness and visualization processes for a healthier body and mind as well as enable internalization. This space can also be used for outdoor lectures and we can provide you with the required AV equipment.
An open-air Amphitheatre for outdoor presentations and shows against the backdrop of nature.

Library - An extensive variety of books are available for reading. Should you wish to borrow a book during your stay with us, please inform one of the members of the staff.

Swimming Pool, Jacuzzi & Steam room - The water in our pool with an infinity edge appears to cascade down to the meditation/yoga hall in the distance. The temperature of the pool varies from 25 degress Celcius to 30 degrees Celcius, depending on the weather. (December is the coldest month and March is the warmest)

The pool and jacuzzi are available for your use between the hours of 6 am till 10 pm. There is no lifeguard on duty and the pool has a maximum depth of 5 feet.

A conference room with modern audio-visual equipment, including a LCD projector and screen. The room has a home theatre for watching presentations, learning videos etc.

Gym: The gym is equipped with a treadmill, cross trainer and abdominal exercise equipment. It is available for your use 24 hours. Please bring separate footwear for this activity.
How to reach at Shreyas Retreat
Shreyas is one hours drive from Bangalore International airport, and approximately one and a half hours drive from Bangalore city.
To enable us to send you the rates of the Ayurveda packages of the above resort, we need to have the number of participants and the dates from you. (Query)