Welcome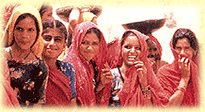 Rajasthan Tours - Most visited Destinations of India
Rajasthan is one of the most fascinating regions in India, with one of the oldest civilizations and extremely rich cultural heritage. The State of Rajasthan ........


North India Tours
The Northern part of India is full of diversities and wonders. North India has got its brilliant past and lively present in the form of forts, palaces and temples.....


East India Tours
East India comprises of 10 states mainly West Bengal, Sikkim, Orissa, Bihar and some of the North eastern Hill States. They all lie in the eastern part of India....


South India Tours
South India is made up of 4 states mainly Andhra Pradesh, Karnataka, Kerala and Tamil Nadu. South India is famous for its natural beauty and rich cultural....


Kerala Tours
Kerala, the god's own country is situated on the south western tip of India. Kerala is one of the famous tourist destination in Asia and offers everything to the tourists. Welcome.....


Gujarat Tours
Gujarat is one of the most diverse states in India. The state of Gujarat is known all over the world for its holy temples, historic capitals, wildlife sanctuaries, ......


Kashmir Tours
The Himalayan Valley of Kashmir is known all over the world for its beauty and charm. The Jammu and Kashmir state is a very large State & comprises of three distinct regions....


Himachal Pradesh Tours
Himachal Pradesh is situated in the heart of the western Himalayas. Shimla, a beautiful hill station is the state capital of the Himachal Pradesh is Shimla, largest city .....


Ladakh Tours
Ladakh is among the most beautiful places in the world which is situated at a height of 3513 meters above sea level. Ladakh is situated on the western end of end of the .....


NorthEast India Tour
The partition in 1947 was greatly responsible for the region's separation from India, but the tourism has been recently promoted in the north-eastern....


Sikkim Tours
Within its area East India encapsulates some of the most striking contrasts in the sub continent. Sikkim has so rich of flora, fauna and diverse population as no .....


Nepal Tours
Nepal, the only Hindu kingdom of the world is situated between Tibet and India. Kathmandu is the cultural and political centre of Nepal and is magnificent for its wealth of unique .....


Bhutan Tours
Bhutan is among the most beautiful places in the world with its neighbors India and China. Its official name, Druk Yul means "Land of Thunder Dragon", portrayed on the flag....


Tibet Tours
Tibet is a homeland of six million people. The significance of Tibet landscaping is not only the earth's highest mountains but also a vast arid Plateau and majestic river valleys....


Adventure Tours
The adventure tours are the best way to explore the unexplored regions in India. In these tours you will travel to the exotic mountain valleys, experience Rafting in the Rivers of India....


Bird Watching Tours
Bird Watching means the activity of observing birds in their natural habitat, where one can identify the birds and understand what they are doing....


Wild Life Tours
The wildlife sanctuaries enables one to view the most unique animals and birds existing in India and also have some close encounter with them. Ask us for your tailor made....


Safari Tours
Safaris are the ideal way of exploring the land of India. The safari tours will enable you to have a glimpse into the economic and social life of people. Ask us for your tailor made .....


Temple Tours
India as a confluence of different religions has always attracted pilgrims from all over the world. There are temples in every part of India. Get your individual tailor made...


Goa/Beaches Packages
Beaches in India provide the most tempting combination of sun, sand and sea that is too hard to resist for any beach lover and water sports lover. Goa, Kovalam, Diu offer ....


Learn Indian Languages
Indo Vacations has designed some exclusive language courses. Our array of language programmes include courses in Hindi, Bengali, Gujarati, Malayalam, Punjabi, ....


Indian Cookery
Indian Food has been rated by most of the cultures as one of the best food available. Especially for vegetarians the travel to India is half worth to enjoy the India food ....


Golf Tour
Golf had already been played in India for 59 years before the first major course was opened in the USA in 1888. By the end of the 19th century India already had a dozen ....


Group Departures
On this page you can make a request to join group tour by entering your name for the desired date for the below mentioned specific group. Please fill up all the required....


Special Tours
Indo Vacations is specialized in organizing special interest tours all over India, Nepal and Bhutan. These tours can be an alternative than the classical .....


Train Tours
The most pleasant mode of traveling in India is by train. The journey by train is like a adventure for the tourists which provides a memorable experience. During....


Hotels
"Indo Vacations" as Tour Operators and Travel Agent is not only specialized in organizing tours throughout the India but also offer hotel booking services......


Car Rental
We at Indo Vacations organize the kind of car that you wish and give guarantee for experienced drivers and reliable arrangements for the start and end of....

Festivals
India is a land of diversities. The people of every faith and religion live in unity and as well as celebrate various festivals in the country. In no other country of the world ....
Coconut Bay Beach Resort - Trivandrum
Information about Coconut Bay Beach Resort
Coconut Bay Resort is a secluded beach resort nestled amidst a lush coconut grove with its own private beach. This resort is a distinctive beach resort with unmatched classic charm, natural beauty and fine quality services. The beautiful, uncrowded beach is located just 25 meters from the resort, where you can lounge in shaded comfort, bask in the golden sunshine, or thrill to the exhilarating surf. The beach resort is an ideal place for fun and frolic, pleasure, leisure and relaxation.
Accommodation at Coconut Bay Beach Resort
The accommodation in the Coconut Bay Beach Resort consists of five beach rooms, twenty comfortable air-conditioned deluxe beach villas, non air-conditioned beach villas, poolside beach villas and air-conditioned super deluxe beach villas. The beach rooms are in a single row with a common verandah in a single structure. These rooms have a private lawn area with an outstanding view of the sea. Beach beds and hammocks are also provided. The rooms are equipped with Double beds, Telephone, Television, Fridge, and attached bath with running hot and cold water. The poolside beach villas are located close to the swimming pool. The non air-conditioned beach villas, poolside beach villas, deluxe beach Villas and Super Deluxe Beach Villas are independent, luxuriously furnished and spacious. These villas are equipped with all modern facilities like hot and cold water, refrigerator, telephone with international direct dialing facility and television. The villas also have Sundeck area with hammocks and beach beds. Each villas offers a fantastic view of the sea and are close to the beach.

Restaurant at Coconut Bay Beach Resort
There are two restaurants in the hotel, one is sea-side and other is roof top. The Gallery is the sea-side restaurant that serves exquisite Kerala, North Indian, Continental, Chinese, Tandoori delicacies and Seafood dishes.
Facilities at Coconut Bay Beach Resort
Baby-sitter, doctor on call, laundry, taxi service, Internet, Fax, Refrigerator, Library, Travel and tour assistance, money exchange facilities, Visa and Master Card acceptance, Gift Shop, Safe deposit locker, Golf, Swimming pool equipped with Jacuzzi, Indoor games like Chess, Caroms, etc. and outdoor games like football, volley ball, etc are the various facilities which are available at the resort. Beach facilities such as beach beds, beach umbrellas, reclining beach chairs, life jackets, life belts, Kattamaram (catamaran) rides, snorkeling equipment, fishing rods, life guard, beach games, etc are also provided by the resort. The resort also organize the cultural dance programmes showcasing Indian culture and local cultural traditions on weekends and also make arrangements for backwater boat rides, sight seeing trips to local places of interest as well as other major tourist centres, etc.

Ayurveda & Yoga
There is an excellent Ayurveda Treatment Centre at the Coconut Bay Beach Resort. This centre has team of dedicated Ayurvedic doctors and therapists that provides 5000 year old Ayurvedic rejuvenation massage, therapies, body and beauty care programs, slimming treatment and Ayurveda treatments at its centre. The Ayurveda Centre has been provided the Olive Leaf certificate by the government of Kerala. Some of the Ayurveda treatments that are offered in the centre are Dhara, Snehapanam, Pizhichil, Marmachikitsa, Udvarthanam and Njavarakizhi. The Resort also offers Yoga sessions under the guidance of an expert yoga instructor.

How to reach Coconut Bay Beach Resort
Coconut Bay Beach Resort is about 6 kms. south of the world renowned Kovalam beach and 19 kms. from Trivandrum. The beach resort is situated just 30 minutes drive from the Trivandrum airport.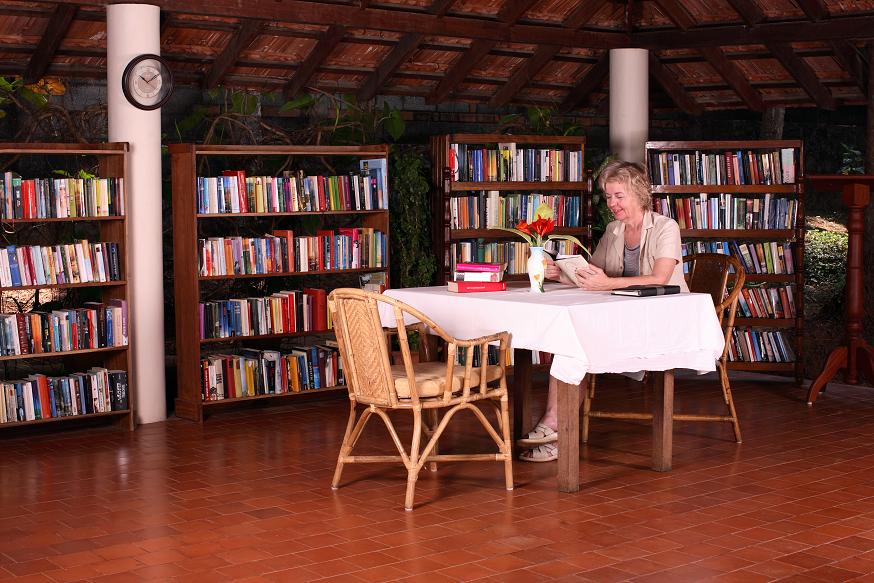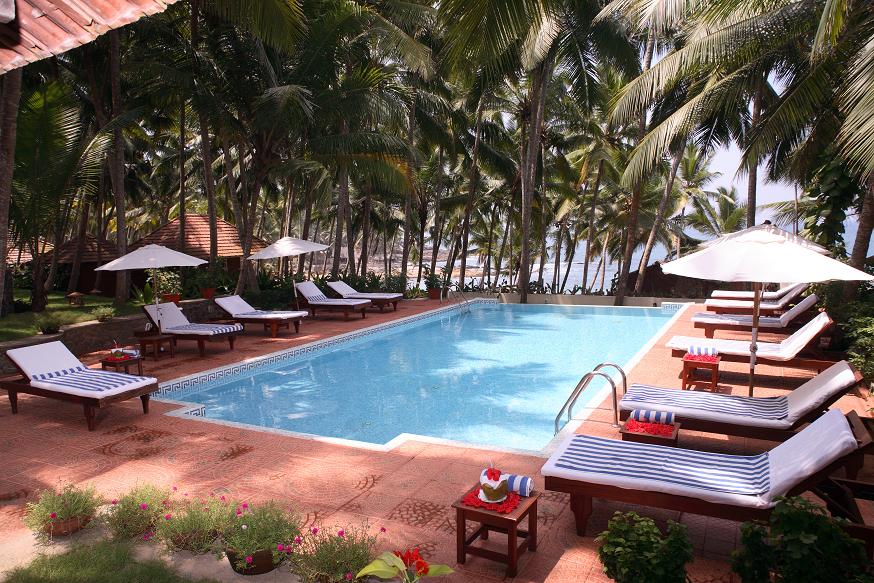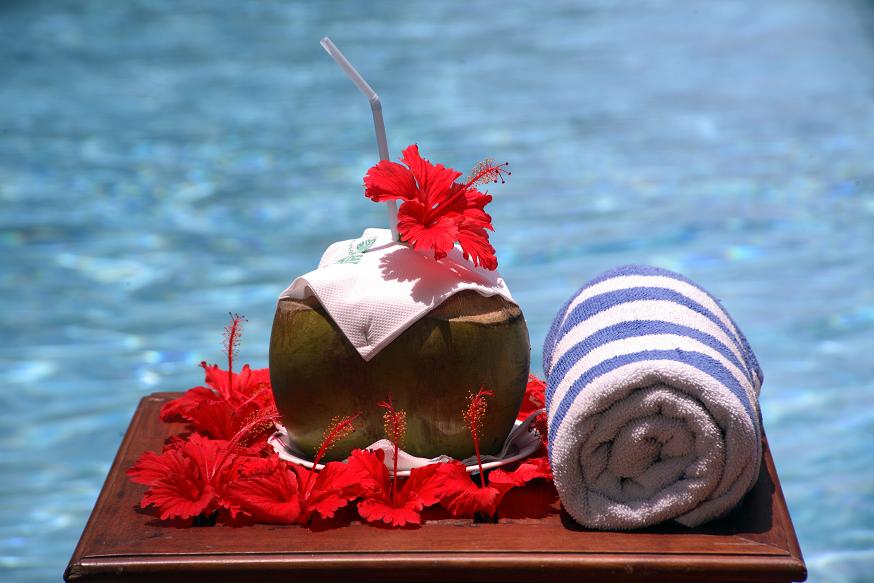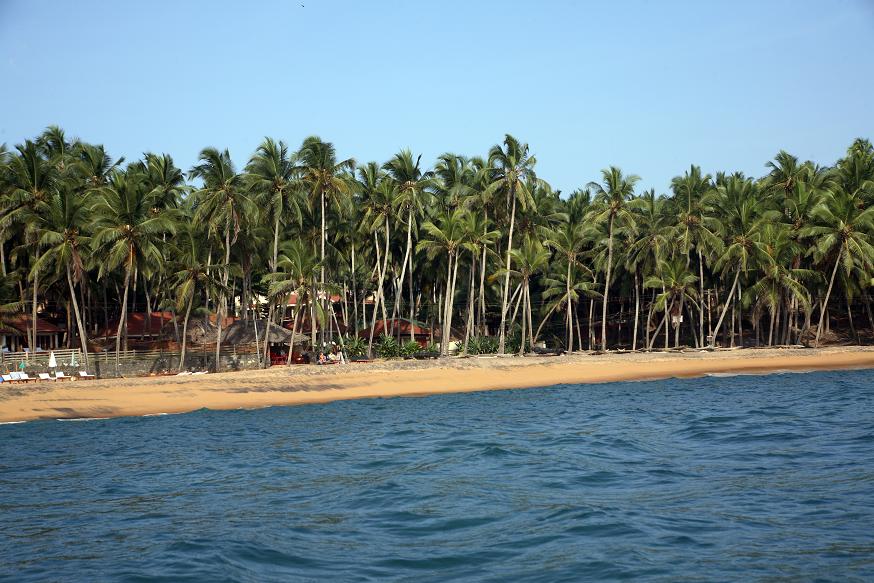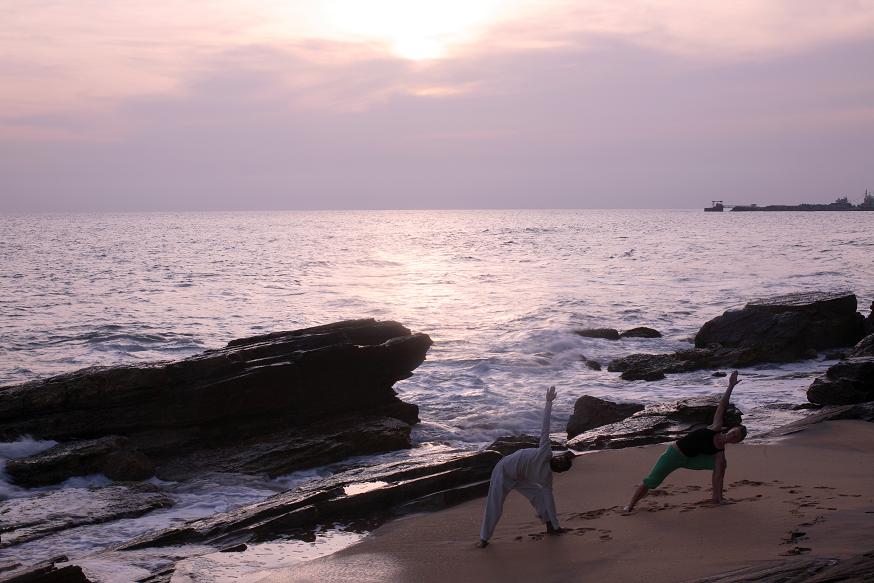 Ayurveda Panchkarma treatments at Coconut Bay Beach Resort: Tariff in Euro


Rejuvenation Therapy / Body Purification Therapy

Room Category
7 Nights
14 Nights
21 Nights
28 Nights
Single
Double
Single
Double
Single
Double
Single
Double
Superior Deluxe Villa (with air conditioning)
Room no: 201, 202, 208
Deluxe Villa (with air conditioning)
Room no: 101, 102, 103, 104, 203, 204, 205, 206, 207, 209, 210
Villa (with air conditioning)
Room no: 105, 106, 211, 212
Zambi's Place at Coconut Bay (with air conditioning)
Room no: 214, 215, 216, 217
Beach Room (without air conditioning)
Room no: 301, 304, 305
(Economy Beach Room)
Room no: 302, 303

Rejuvenation Therapy / Body Purification Therapy


Room Category
7 Nights
14 Nights
21 Nights
28 Nights
Single
Double
Single
Double
Single
Double
Single
Double
Superior Deluxe Villa (with air conditioning)
Room no: 201, 202, 208
Deluxe Villa (with air conditioning)
Room no: 101, 102, 103, 104, 203, 204, 205, 206, 207, 209, 210
Villa (with air conditioning)
Room no: 105, 106, 211, 212
Zambi's Place at Coconut Bay (with air conditioning)
Room no: 214, 215, 216, 217
Beach Room (without air conditioning)
Room no: 301, 304, 305
(Economy Beach Room)
Room no: 302, 303
Services (included in price):
Accommodation, Ayurvedic Treatment, Yoga Classes, Full board vegetarian food, Airport Pickup and Drop & All taxes
To enable us to send you the rates of the Ayurveda packages of the above resort, we need to have the number of participants and the dates from you. (Query)