Cooking Classes

in

Jaipur

for Foreign

Tourists

-

Learn Vegetarian Indian Cooking




(High Quality intensive Cookery Classes & Crash Courses

in Jaipur for Tourists

by a female Chef

since year 2000)




(

cooking classes in Jaipur, learn cooking Indian Food, Indian Cuisine classes, Indian Cookery demonstration

Jaipur

, Ayurveda Cooking Classes

in Jaipur

,

Hands-On

Cooking Classes , North Indian Recipes, South Indian Recipes, Rajasthani recipes, Indian Sweets, Garam Masala secrets)
Indo Cooking classes in Jaipur are most suitable for individuals and groups from foreign countries. Our intensive cooking classes are designed for non-Indian nationals to enable them to cook Indian food easily in their own kitchen back home.
The cooking lessons are conducted and explained in such a way that you would not need any special utensils or will have to invest many hours for preparation. The Goal of our cooking classes is to teach you the basics of Indian cooking in such a simplified way so that you can use the cooking skills very often at home. The Indo Jaipur cooking classes include numerous demonstrations and hands-On teaching of various basic and famous Indian Dishes.. There is a Question Answers session during the course and you are encouraged to ask questions and Cook Indian food yourself under the supervision.

During the cooking classes, you will be taught to cook different Indian dishes with the appropriate use of typical Indian spices as they are used in a typical Indian Kitchen. We offer two options of Vegetarian (no meat) Indian Cooking Classes in Jaipur to choose from:
Option 01: Basic Indian Vegetarian Cooking Session
(around 03 hours in a modern hygienic Kitchen, Starting at 10.30 AM, Rs. 3000 / Person)
These basic classes are very reasonably priced and can be done by individuals as well as by small groups. This cooking class is ideal for beginners and for those who just want to give it a try to Indian vegetarian cooking. In this cooking class. You will be taught the following indian vegetarian Dishes.
- One DAAL DISH / DAAL FRY
- BUTTER PANEER MASALA
- DRY VEGETABLE ALOO GOBI
- SIMPLE CHAPPATI, PARANTHA, ALOO PARANTHA
- GREEN CHUTNEY
- SWEET LASSI DRINK
- VEGETABLE RICE (PULAV)
Option 02: Intensive Vegetarian Indian Cooking Class
(around 05 hours in a modern hygienic Kitchen, Starting at 10.30 AM, Rs. 4500 / Person)
In one-day intensive cooking class, you will be taught many Indian vegetarian dishes, Naan, Roti, simple & stuffed Roti, Parathas (Indian Breads) as well as Indian sweet / Snack / Chutney (sauce), etc. so you learn to cook up to 09 dishes in one cooking session. You will be encouraged to involve yourself actively in the Kitchen under the Guidance of our Cooking Teacher. You will enjoy a lavish lunch with the cooking teacher with a detailed explanation. .
Please send us an email to check the availability for your dates and t for your individual Intensive Indian Cooking class in Jaipur. Our vegetarian cooking classes at Jaipur Centre take place from 10.30 till 14.00. (Monday to Saturday ). Afternoon & Sundays Cooking Classes are available only on special request. Options 1 & 2 both include the following:
Cost of all the Ingredients, Vegetables, Spices

The fee of the cooking instructor, Cooking Literature / Indian Cooking Recipes

Visit of local Spice and Vegetable Market or Bazar (if desired)
Option 03: Vegetarian Indian Cooking Weekly / monthly courses
(around 07 hours in a modern hygienic Kitchen, Starting at 10.30 AM,
please send us email to get the cost
Longer Indian cooking courses for one week or more are available. These Indian Cooking Courses are done mostly by foreigners who wish to learn Indian cooking thoroughly and won't be comfortable with the use of typical Indian Spices while cooking at home or as chefs in their country. For Foreign Chefs, courses for up to one month are organized and you will get to interact with different specialized Indian Chefs from different states. During longer cooking sessions your stay can be organized with the cooking Instructor in a very well furnished & comfortable high standard Apartments. Please send us an email to check the availability and charges for weekly / monthly cooking classes by a native chef in India.
You may call the cooking instructor (Suman) at +91 97843 56686 (WhatsApp) for urgent bookings or any clarification needed. (For advance bookings and general Queries communication is preferred via email as the cooking instructor may be in the middle of a cooking session while you call). Bookings should be done in advance! Please feel free to inform us of your wishes as this would enable us to make the best out of the cooking Training Session. We look forward to welcoming you to the tastes of Indian Spices at Indo Cooking Classes by Suman in Jaipur at Indo Cooking Classes!
Indian Food Cooking Classes in Jaipur, India - Images Gallery....


Indian

Cooking classes

, Jaipur

- Details of longer Indian Cooking Courses for Foreigners at Jaipur (Rajasthan

- India)
Indo Cooking classes are most suitable for individuals and groups. Our Indian Cooking classes are designed for non-Indian nationals who wish to learn the original Indian cooking. We offer to stay at the cooking Teacher's home during the cooking course. The aim of these classes remains to enable beginners to cook on their own using the basic spices available in their home country. Professionals are given help to polish their already existing knowledge and there are guided into the depth of Indian spices and cooking secrets. The ancient cooking secrets are revealed to enrich your real Indian cooking experience. Our cooking classes include numerous demonstrations and teaching of Indian cooking as well as many Question – Answers sessions during the course with our Expert cooking Instructor.
There is a minimum one-day course and a maximum of two months. Most common among our Students are one-day or one-week courses which can be taken individually as well as in a group. If you intend to bring some more people with you there will be a discount for group cooking sessions.
In our cooking classes, you will be taught to cook different Indian dishes with the appropriate use of typical Indian spices as they are used normally in an Indian Kitchen. You will be taken care of by a female / Male Professional Indian cook who has had many years of cooking teaching experience. Most of our Course Participants are able to cook after the course independently on their own in their home country.
Below is the general information about the cooking course offered by us. If you still find any of the questions unanswered please let us know and we would get back to you. We offer cooking sessions for individuals and groups in the city of Jaipur (Jaipur is the capital of Rajasthan (India) and is around 250 km. away from Delhi or Agra (Taj Mahal). If you are traveling only for learning the Indian cooking you can travel any time and the classes can be organized. However, we recommend checking if the wished dates are available with us as during the high seasons our private one-on-one cooking classes may be booked very well in advance.
You may find below information about our cooking classes useful:
We offer the one-day crash course (4 hours) as well as a demonstration of Indian cooking.

We also offer five days course (with the one-week accommodation option) to one month course (which can be extended for any time duration) in the homely kitchen of a cooking teacher where you will be taught the basics as well as a few North Indian dishes. The choice of the dishes to be learned can be decided with mutual understanding with the cooking Instructor (the time period or duration can be extended if we have the dates available).

Our cooking sessions take place from 09.30 AM till 8.00 PM (Special Evening sessions and Sundays classes are available on request.

There will be a lavish Lunch with the Teacher after the cooking session – the time during the lunch can be used for question – answers sessions.

There is also an option of staying with the cooking teacher (subject to availability of the accommodation on the given dates ), the accommodation would be with a private toilet and bath of your own - a sample accommodation can be viewed here!

The cost of the cooking classes with the stay at the cooking teacher differs according to low and high season and as per the availability of the accommodation type Please send us an email with the dates to get more information on this.
If you decide to have a longer stay with the cooking teacher - the cooking training package will include:
Cost of all the Ingredients, Vegetables, Spices

The fee for the Cooking instructor, cooking literature

Accommodation (You will be provided your own air-conditioned room and a private bath)

Access to wifi internet, TV in your room

Laundry facility once a week

All meals, tea, coffee, etc. in the premises
Jaipur International is the nearest airport to the cooking school and we / our Driver will pick you up from the Airport and drive you to the host family. We can also get you picked up from the Delhi International Airport During the half-free days we can plan for you a tour itinerary at a reasonable cost which would include some sightseeing points in and around Jaipur. Should you be interested in touring further into Rajasthan or India we can extend your tour itinerary.
For those who are unable to travel to India to learn Indian cooking, we also offer courses through live online video teaching.
Currently, we are offering Indian cookery classes not only in Jaipur but also in different cities in India, Nepal & Sri Lanka. Please do share your dates for other cities and we would be glad to send you the relevant information.
You may also have a look at the references from many different countries.
The cost of the Classes may vary according to the chosen time and would be subject to the availability of our expert native cook. Please send us an email and we would get back to you with further cooking classes details.
Indian Food Cooking Classes in Jaipur, India - Images Gallery.....
Our Location:
Plot no. 312 A (Near Pushpawali Nursery Premises), Valmiki Marg, Raja Park, Jaipur (Rajasthan), INDIA
Contact Person: Ms. Suman (Mobile: 0091 97843 56686 or Landline at 0091 141 4013241)
Click here to email
Click here to see exact Location
New !
For those who are unable to travel to India to learn Indian cooking, we also offer courses through live online video teaching where you are taught online with the help of a web Camera by an expert native teacher. Should you be interested in these options we would be glad to send you further details. Please email us your dates.
Indian Food has been rated by most cultures as one of the best food available. Especially for vegetarians, the travel to India is half worth only for enjoying the Indian food with its rich varieties. Indian restaurants have been flourishing in the capitals of the world and thus, Indian cuisine is no longer a mystery. In the UK, Indian curry is the third most popular dish among the Britishers. Among the Japanese, the curry rice is relished quite a lot and it is the second most popular dish according to a recent survey. The UK has more than 1000 Indian restaurants and the USA, Canada, and Japan have over 100 restaurants each. India attracts over 5 million foreign visitors every year for an average stay of one month. Indian Cuisine is also gaining more popularity due to its rich taste, exotic flavor, and healthy preparation. Indian cuisine has a very good taste which is designed not only to satisfy the taste buds but also the human psychology. Indian cuisine is easy to prepare, tasty, and can be prepared in less time. Spices are the main part of Indian cooking and their quantity and proportion vary with the geographical boundaries. Spices are freshly grounded and added in many different combinations. Some of the spices which are commonly used are coriander, turmeric, cumin, chilies, fennel, and fenugreek. Other spices which are added for some fragrances are cardamom, clove, cinnamon, and star aniseed.
Individual Indian Cookery Classes in India - Students and Cooking Instructor
Indian Food Cooking Classes in Jaipur, India - Images Gallery.....
There are various techniques of Indian cooking. Some of these techniques are Baghar or Tadka (Instant seasoning or Tempering), Balchao (Pickling), Bhunao (Curry), Dhuanaar (Smoke Seasoning), Dum (Steaming), Handi, Kadhai, Talna (Frying), Tandoori and Tawa. Tandoori cooking is a north Indian specialty and is famous all over the world. Tandoori chicken, Naan, Tandoori Roti, and Tandoori Kebabs are some of the famous Tandoori dishes.

Indian cuisine can be divided into two main cuisines, North Indian and South Indian Cuisine. A typical North Indian meal consists of Chappatis, parantha or pooris (unleavened flatbreads), dals, curries that are mild and made in ghee, vegetables seasoned with yogurt or pomegranate powder, green vegetables like spinach and green mustard cooked with paneer, north Indian pickles, fresh tomato, mint, cilantro chutneys, and yogurt raitas. North Indian desserts and sweets are made of milk, paneer, lentil flour, and wheat flour combined with dried nuts and garnished with a thin sheet of pure silver. Nimbu Pani (lemon drink), and Lassi (iced buttermilk) are popular drinks in the North. Hot and sweet cardamom milk is very common before going to bed. North Indian Cuisine can be further divided into different categories according to states and tastes. These categories are Kashmiri, Punjabi, Rajasthani, Garhwal, Pahari, Uttar Pradesh, Awadh, and Lucknow.
Individual Cookery Classes in India - Students and Cooking Instructor
Indian Food Cooking Classes in Jaipur, India - Images Gallery.....
Medicinal value of Indian Spices
It is quite interesting to note that most Indian spices have a medicinal value. The most commonly used spices and herbs in Indian cooking are asafoetida, cardamom, clove, cinnamon, coriander, garlic, ginger, turmeric, and aniseed. Turmeric, Ginger, and Cardamom are the most commonly used herbs as they have digestive properties. Turmeric gives the dish a pleasant yellow natural color and helps to preserve the food. Coriander seeds are supposed to have a cooling effect on the body of a person. Saffron, the most expensive spice, creates a nice flavor and fragrance with just a little quantity. Mustard, cinnamon, nutmeg, pepper, cloves, poppy, and caraway seeds are some other spices used in Indian dishes. In India, Masala is commonly used which is a blend of various spices and it is either in a dry or a liquid paste. Garam Masala is a blend of fragrant spices which include cinnamon, cloves, cumin seeds, mace, coriander seeds, nutmeg, and black pepper. It can be stored and kept for future use. Nowadays, Garam Masalas are conveniently available in packets in any grocery.
| | |
| --- | --- |
| | |
| | |
| | |
| | |
| | |
Indian Food Cooking Classes in Jaipur, India - Images Gallery.....
Indian dishes known as curries
Indian cuisine has a lot of variety to offer. Indian food can be broadly divided into four different regions corresponding to Delhi for the North, Bombay for the West, Madras for the South, and Calcutta for the East. Many varieties of curry dishes are made in different parts of India, each of which has its own distinct flavor. For the Indians, curry encompasses a whole class of dishes. There are numerous curries that are prepared with meat, fish, chicken, vegetables, and on occasion, fruits. The only common factor in all the curries is that they all contain freshly ground spices, including turmeric, and have a 'gravy'. The Cooking medium is pure ghee (clarified butter). Other vegetable fats are now more commonly used as the cooking medium.
Besides the preparation, the presentation of food is also important to Indians. Traditionally, Indian food is served either on a well-washed large banana leaf or in a thali which is a large plate made of brass, steel, or silver. Porcelain plates are also used commonly by Indian people. On the thali, several katoris (little bowls) are placed to hold small helpings of each dish. A typical meal may consist of a meat or fish dish, two vegetable dishes, dal, yogurt, and a sweet dish of kheer or halwa, pickles, chutneys, papads, etc.
Indian Breads (Roti - Nan - Parantha - Puri)
India offers a vast variety of bread. Unlike in the West, this bread is the main food in the Indian meals. Chappatis and nans are cooked in an oven or tandoor. Thin and small chappatis are made on an iron griddle placed on gas or fire.
The most common bread is the chappati. Basically, the chappati is just flour and water dough rolled very thin and cooked like a pancake on slow heat. These are hot and fresh. Some breeds like puris are fried in deep fat and paranthas are pan-fried with a little fat, preferably ghee. These are quite soft and delicious. Indians also make paranthas stuffed with potatoes or other vegetables which are complete meals and are eaten along with plain yogurt and pickle.
Puris are made from the same basic dough rolled out thin and round with a wooden roller and deep-friend in clarified butter or vegetable fat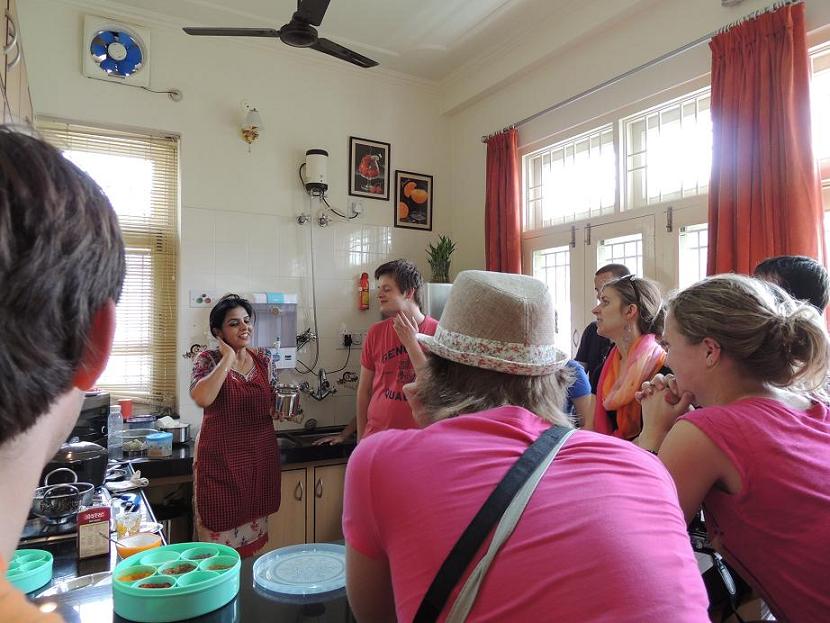 Indian Food Cooking Classes in Jaipur, India - Images Gallery.....
Bread is more commonly eaten than rice. The omnipresent chappati is the common man's dish. Nan is a kind of luxury and is preferred eaten with tandoori food. Another variety of rich bread is parantha which is prepared of wheat flour and is relished by almost everyone. Since most Indian restaurants abroad serve Tandoori food, the foreigners are more familiar with it. Tandoori chicken or mutton is a barbecued food that is spiced and marinated in yogurt. Tandoori chicken with a nan, green salad, and a dessert is a dish that the tourists cannot resist. Tandoori food is not very spicy and is very similar to western cooking. In Delhi, many varieties of meat kababs are available like the Boti Kabab, Reshmi Kabab, and Pasinda Kabab. The other delicacies of Northern Indian cuisine are biryani which is a dish made of rice, saffron, and marinated lamb or chicken. Pulao is a slightly less complicated version of biryani. There is another exciting version – sweet pulao made with rice, coconut, almonds, mangoes, and papayas.
Besides tandoori food, the other choices available are Rogan Josh, lamb curry, Kofta, Korma, or Do-Piaza. Do Piaza is made with lots of onions, Korma is particularly rich and Koftas are curry along with small balls of meat. The large Koftas have a stuffing of boiled eggs. North Indian meal is also accompanied by dal (lentil soup).
For the vegetarian lovers, this cuisine offers several dishes like Panner, Sag Paneer (cheese with spinach), Bharta, a delicious vegetable made from eggplant, and several other dishes combining cauliflower, potatoes, and other similar vegetables. The dessert mainly includes kheer, firni (pudding), or halwa.
Since Kashmiri food has also been influenced by Mughlai food, so there are many varieties of meat dishes, especially lamb dishes, and are spicier as compared to other typical North Indian dishes...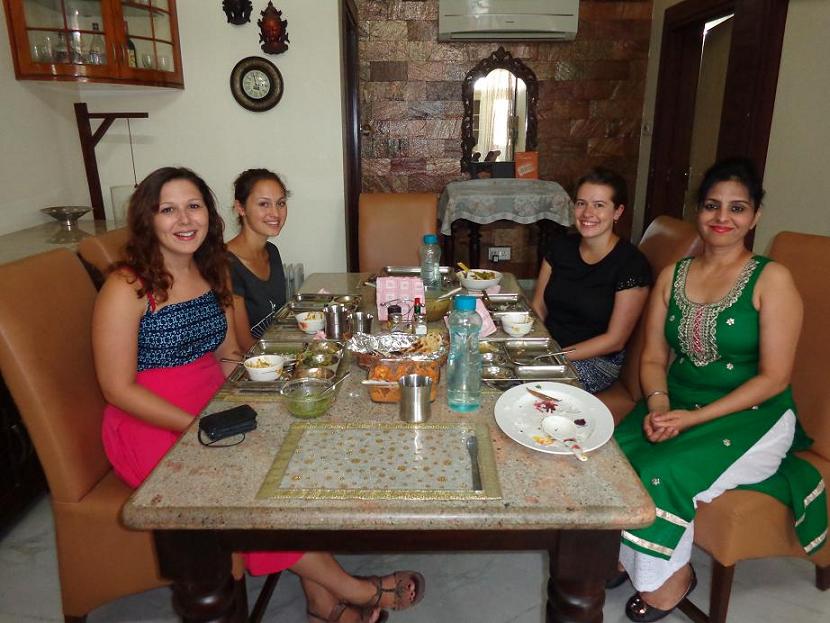 | | |
| --- | --- |
| | |
| | |
| | |
The most famous form of Kashmiri cuisine is Wazwan. Wazwan is the traditional 24-course banquet with many ways of cooking and varieties of meat - some in curry, some dry, and of various sizes. These are carefully cooked by the master chef, Vasta Waza, and his retinue of wazas. The meal is served on a large metal plate called the trami. The rice is served in a mound in the center. There is an earthen pot which is filled with freshly made yogurt and chutney. The meal began with a ritual washing of hands at a basin called the tash-t-nari, which is taken around by attendants. Seven dishes are a must for these occasions which are Rista, Rogan Josh, Tabak Maaz, Daniwal Korma, Aab Gosht, Marchwangan Korma, and Gushtaba.
The most famous dish of Punjab is the Sarson ka saag, which originated from Punjab. This dish of green mustard is simmered and slow-cooked over coals along with rajma, kali dal, or lentils. This dish is served with the unleavened bread of cornmeal or wheat and a dollop of butter or with steamed basmati rice.
The major ingredient of the Rajasthani or Marwari dishes is the Gram flour or Besan. The gram flour is used to make some delicacies like Khata, Gatte Ki Sabzi, and Pakodi. Powdered lentils are used for Mangodi and Papad. Bajra and corn are used all over the state in the preparation of Rabdi, Khichdi, and Rotis. Some of the famous sweets and desserts of Rajasthan are Laddoos, Malpuas, Jalebies, Rasgullas, Mishri Mawa, Mawa Kachori, and Sohan Halwa, and Mawa or milk cake.
Most families in Uttar Pradesh eat vegetarian food. The most famous sweets which are found in the cities of Uttar Pradesh are jalebies, sweetmeats, variety of 'kachoris' and pethas. The Awadh style of cooking is famous all over the world for its tender meat dishes and excellent sweets. Lucknow is known all over the India for its biryanis and different meat preparations. Nihari and naan, a mutton dish served for breakfast is one of the dishes that should be tasted to be believed.
In Bengal, food is quite plain and rice is the staple diet. Most, Bengalis prefer freshwater fish and fortunately, there is an abundance of it in many homes in rural Bengal which have their own fish ponds. Mustard seeds and mustard oil are generally used as the cooking medium for the various fish dishes. Bekdi, a special fish of Bengal, especially lends itself to the Western style of cooking. If Bengali's first love is fish, then the second is sweets. Special and typical sweets that come from Bengal are Misti Doi which is then sweetened yogurt, Sandesh, and Rasgullas, made in different ways from cottage cheese. Bengali cuisine is unique in India where plain yogurt is missing from its menu. Traditionally, no sweets are made at home and are always bought from the confectioner.
South Indians eat a lot of rice and their curry is as rich as in North India, but it is spicier. Their vegetarian food provides a lot of variety, especially Brahmin food which is different from the non-Brahmin food.
Tamarind, chilies, and coconut are grown in abundance in the south. A typical meal in the South consists of sambhar, rasam (a thin lentil soup), and some vegetable preparations which are often cooked with grated coconut and yogurt and eaten with boiled rice. Sambhar, the staple dish of South Indians, is made with a combination of arhar, yellow lentil, tamarind, spices, and vegetables.However, the most popular dishes are dosas and idlis whose popularity spreads throughout the country.

These dishes are served with Sambhar and coconut chutney. Dosas are fried pancakes, whereas idlis are more like steamed dumplings and are made with a mixture of ground fermented rice.
Food Culture in West India
The food available in Mumbai varies from the food in the rest of the country. This is perhaps due to the presence of small but influential communities of Parsis, Sindhis, Goans, and Khoja Muslims.
A few years ago, Goa was occupied by the Portuguese and hence the Portuguese influence is present in its cuisine. One of Goa's best-known dishes is Vindaloo, chicken pork, or fish cooked with spices and vinegar. Unlike other Indians, Goans eat a lot of pork.
The fresh sausages and seafood have a special taste. The Boras and the Khojas also have their own style of cooking. The Sindhis, prepare a different cuisine which is more often meat-based.
The majority of Maharashtrians and Gujaratis, the original natives of this region, are vegetarians. They have mastered the art of vegetarian cooking.
India is a country of sweets and each region of India has its own specialties. Most Indian sweets are made by boiling down milk to remove the moisture.
It is called khoa. When butter, sugar, and many other flavors are added, then these take the form of barfi, malai, kheer, rasgulla, gulabjamun and sandesh.
The various regional recipes have different forms of rice puddings, milk puddings, vegetables and fruits dipped in sweet syrup, etc. Combinations of all these offer hundreds of varieties of sweet dishes. These desserts can be decorated with raisins, almonds, pistachio, etc.
Paan is generally eaten by people after having their food. Paan is a betel leaf wrapped around a variety of ingredients. Every paan-seller has his special recipe to make. There are as numerous styles of preparing paan in India. The paan made of betel leaf is the most popular and has some digestive properties.
Tripadvisor Indian Cooking Classes in India Reviews
"Wonderful cooking class in indian cuisine"






Reviewed 17 March 2015

We booked a 3 day cooking class with Suman and it was the highlight of our 2 weeks vacation to India.
We learnt a lot about indian dishes, spices and prepared delicious vegetarian dishes.
Suman showed us how to prepare delicious indian dishes and many kinds of breads.
I can highly recommend her cooking class- it was a truly unique experience.
All the dishes we prepared were delicious beyond belief.
Suman is a fantastic chef and she shared so many of her recipes with us.
Absolutely wonderful !!!!!
Visited March 2015
NatalijaSae
"Interesting, delicious and doable at the same time!"






Reviewed 25 February 2015

Interesting, delicious and doable at the same time! I was taught to cook five different Indian dishes, including naan, green chutney and Patek Paneer to Dal Makhani.

Anja K.
Visited February 2015
"Highlight of our trip to India!"






Reviewed 22 January 2015

Don't hesitate, book this class!

My wife and I had so much fun learning to cook with Suman! Not only is she a great cook, but she is a great teacher. She knows how to break things down into the most simple steps. You will come out of this class feeling comfortable making many Indian dishes.

Suman has a wonderful family. We enjoyed lunch with her husband and daughter, and had some fascinating conversation about Indian politics.

Highly recommend!
Visited January 2015

Connor S
"We had a great time cooking with Suman"






Reviewed 26 December 2014

It was really nice to spend some time cooking in Suman's beautiful home. We learnt a huge range of different dishes, including several different breads and also had a chance to visit some of the shops where she bought ingredients. We had a lovely lunch with her and her husband afterwards and it was by far the best food we've had in India. A must do in Jaipur!
Visited December 2014
Becky F
London, United Kingdom
"Fabulous cooking class with Suman"






Reviewed 21 July 2014
I booked a cooking class through Indo Vacations with Kumar's wife, Suman - what a fantastic experience! I was warmly welcomed into Suman's home (and kitchen!). We made 8 recipes, some recipes where the gravies can be applied to other dishes which is great. Truly a marvelous experience for anyone interested in cooking and eating Indian food. DON'T MISS OUT!
For greater details about my day cooking with Suman, check out this blog post: http://bowen2bangladesh.wordpress.com/2014/07/19/homestyle-cooking-rajasthani-style/
Visited July 2014
Kate C
Kathmandu, Nepal

More Reviews on Trip Advisor.....
For German-speaking Travelers information is available at: Indisch kochen lernen

Indian Food Cooking Classes in Jaipur, India - Images Gallery.....