Swedana Ayurveda oil massage is often followed by a herbal steam bath with specially selected medicinal herbs. This loosens the vessels and thereby helps the detoxification of the entire body system. The Swedana therapy includes many different forms of heat treatment. The heat to the body can be applied dry or damp, locally or to the whole body.

Swedana is the Ayurveda therapy for revitalising the skin. Herbal mixtures are prepared with various herbs and medicated powder. Your entire body is massaged with these specially for you made mixtures after they are warmed in medicated oils. This promotes circulation and increases perspiration of the body thus resulting the skin to eliminate the wastes and so the skin tone improves.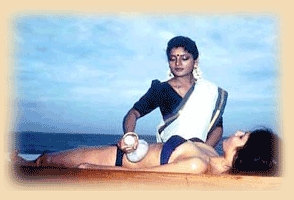 After the application of medicated oil, your entire body is made to perspire by the external application of medicated rice packs in the form of small bags. This ayurveda treatment vitalize your skin and makes it glow. A gentle application of warm special herbal oil is first applied to the skin. The massage of the body helps eliminate toxins from the skin's surface while the oil protects the pores from becoming too loose during the Ayurveda steam treatment. The individual therapy taker is made to perspire intensively inside a steam chamber that lets out herbal steam from aromatic herbs that promote cohesion between cells. Through this Ayurveda application the steam will open up the very small pores of the skin thereby removing all wastes. An excellent therapy for toning the skin and giving it a special long term glow.