Ajmer was a major center for Muslim pilgrims during the fast of Ramzaan and has some impressive Muslim architecture. It houses the Dargah or tomb of the popular 13th century Sufi saint, Hazrat Khwaja Moinuddin Hasan Chisti. The Dargah Sharif is the place where the famous Sufi saint Khwaja Moinuddin Hasan Chisti mortal lie burried and is the site of the largest Muslim fair in India. The Dargah Sharif draws pilgrims and devotees not only from the Islamic world but the people visit this place from all religions as the Dargah Sharif is considered a shrine where all the wishes are fulfilled. Khwaja Moinuddin Hasan Chisti lived in Ajmer from 1190 until his death in 1232.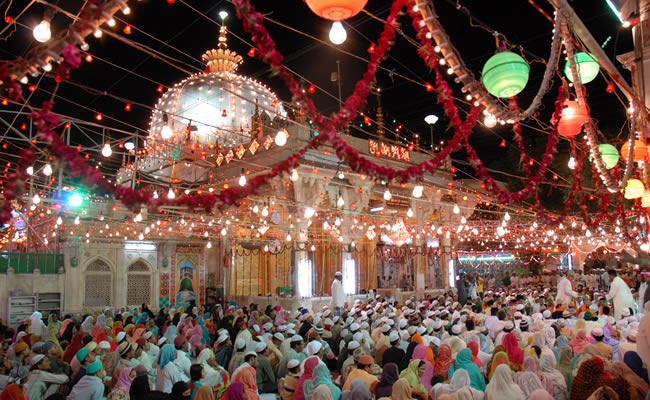 He was referred as the benefactor of the poor and was popularly known as Gareeb Nawaz.
Chaddar, Ghilaph and Neema are the various offerings which are made by several devotees inside the tomb. Mehfils and Qawwalis are held and mass prayer calls for the eternal peace of the mankind. More than five lakh devotees belonging to different communities gather from all parts of the subcontinent to pay homage to the Khwaja on his Urs (death anniversary) during the first six days of Rajab (seventh month of the Islamic calendar).

The pilgrims who come to seek the blessings of the Khwaja make rich offerings called nazrana at the holy spot where the saint has been entombed. The offerings of rose and jasmine flowers, sandalwood paste, perfumes and incense contribute to the fragrance that floats in the air inside the shrine.

The crown on the tomb's summit is made of solid gold and the open space in the foreground is a mosque built by the Mughal emperor Shah Jahan. The entrance is richly decorated with gold and enamel work as well as with Belgian crystal chandeliers (lights and lamps).

The shrine has enjoyed considerable patronage during its history from different Muslim rulers. The main decorative gate was gifted by a local source to Alauddin Khilji, who ruled the Delhi Sultanate between 1296-1315. Several other rulers have also built gateways, including one built by the Nizam of Hyderabad in 1911, which forms the present boundary between the street and the shrine grounds.