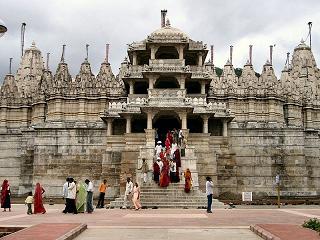 Ranakpur is one of the most important pilgrimage sites of Jainism. Ranakpur is one of the five holy places of the Jain community, nesting in a tranquil valley deep in the Aravalis. Ranakpur is known for its famous Jain Temples.
The Ranakpur Jain Temple were built under the reign of Rana Kumbha in the 15th century. Ranakpur Jain Temples is is one of the largest and most important Jain temples in India.
The Rankpur Jain temples is one of the most beautiful Jain temple. Each temple provides an insight into the rich temple architecture of the medieval times. The most important temple is dedicated to Rishabhji. An enormous basement of this temple covers 48,000 square feet. The Rankpur Jain temples covers an area of 4500 square yards. It is four faced and houses an idol of Adinath. Rising to three stories, the temple has four small shrines with 80 spires supported by 420 columns. There are four subsidiary shrines, 24 pillared halls and in all 1444 columns. Each of the column are intricately carved and decorated with most elaborate sculptures and figures, no two being alike. A special effect is the amazing play of shadow, light and colours. As the sun rays shift through the day in the temple the color of the pillars changes from gold to pale blue. When the Mughal Emperor Akbar visited this temple he was full of admiration and he had made an inscription on one of the columns, which says, that no one ever will be allowed to destroy this jewel of architecture.