If you want to explore the undisturbed beauty, the rich culture and the picturesque sand dunes then Sam Sand dunes is the right place. Sam Sand Dunes are located about 42 away km from Jaisalmer. Sam Sand dunes is the most popular place to see the total sandy bush less desert. Sam dunes have a truly glorious stretch of sweeping sand dunes. The dunes touched by the wind, and therefore becoming as it were wrinkled, create a mystical picture. The best time to visit these sand dunes is during sunrise or sunset. By visiting the Sam Sand Dunes one can get an insight into real desert life.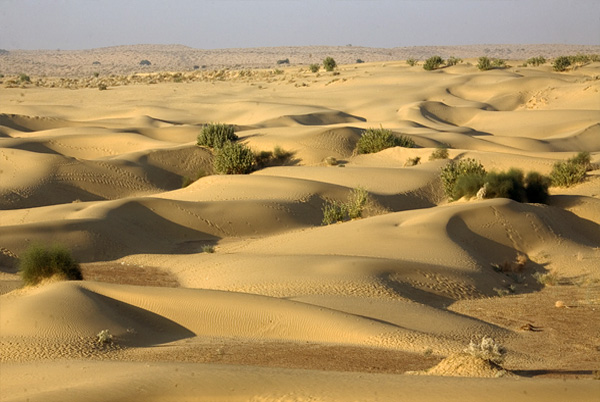 The best way to experience the brilliant sunrise and sunset is by having a Camel Safari. Exciting desert camel safaris allow you to get the real feel of the desert on the camel back. Camel rides on the sand dunes are a thrilling experience, as is the brilliant sunset. The culture, the people, their way of life, and the breathtaking beauty of the surrounding desert landscape complement the adventurous spirit.

This place has still not lost it magic as the desert festival is held in the month of February each year. This festival is full of fun, colour, laughter and cultural events and competitions. Various cultural programmes are organised every day against the backdrop of these fascinating sand dunes.

Any trip to Jaisalmer is indeed incomplete, without a trip to the most panoramic Sam Sand dunes.