Rawla Jojawar - Deogarh (Rajasthan)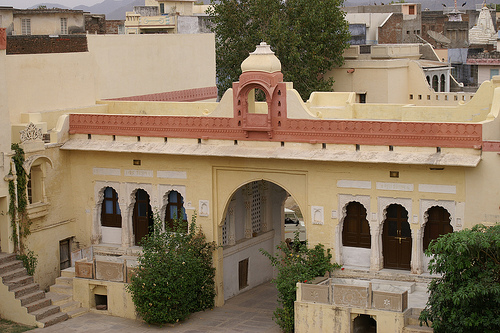 Indo Vacations provides you the best accommodation and information about Hotel Rawla Jojawar, which is situated in Pali, near Deogarh in Rajasthan. Hotel Rawla Jojawar is the beautiful castle situated in the Aravalli Hills in the Jojawar, Pali. This hotel offers warm hospitality and all the modern facilities to its guests. For more information and special discount on hotel booking please contact us.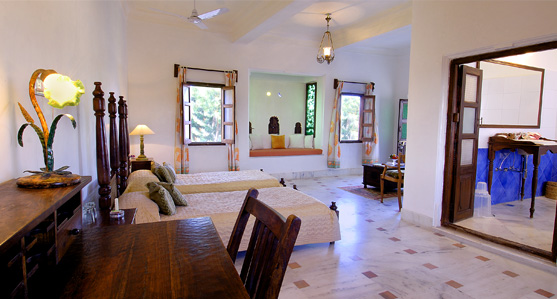 Accommodation:
Thirty five breathtaking rooms, none being alike, each has its own character and beauty, with it a décor to match. They were lovingly renovated out of the existing sprawling Rawla keeping the ancient traditions of Vaastu, or architectural principles in mind, no new buildings were needed.. All rooms have air conditioning and are connected to equally pretty bathrooms with all the modern amenities.
A beautiful pool is located by the side of Zanana Mahal – once a ladies only preserve. Ideal for a relaxing swim and taking in the warm Rajasthan sun. The deck is sometimes a venue for tantalizing dinners. The cuisine served to the visitor is designed by Vedihi – daughter in law to Rao sahib, she and an expert chefs of Rajasthani cuisine. She prefers to blend the cuisine with western dishes for the benefit of travelers from different cultures. But the serious connoisseur is encouraged to experiment with Rajasthani cooking in the family kitchen.
Restaurant:
The grand buildings of the Rawla provide ample options for dining venues, pool side to the Bar Terrace, Pol Terrace, or the Dining Hall.
Facilities:
The facilities which are available at the Hotel Rawla Jojawar are Camel and Jeep safari to tribal village and sanctuary, Cultural programmes, Laundry, Doctor on call, Room service, Travel desk and Safety lockers.
Location:
The Hotel Rawla Jojawar is located about 145 kms. away from the Ajmer railway station and 140 kms. away from the Udaipur airport.