Ranthambore National Park and tiger reserve is situated in the northwestern part of Rajasthan and is about 14 km from the town of Sawai Madhopur. This park is surrounded by the Vindhya and Aravali hill ranges and is very near to the outer fringes of the Thar Desert. Its deciduous forests were once a part of the magnificent jungles of Central India. The terrain is rugged and the hills, ancient sedimentary limestone and sandstone rocks, perennial lakes and deciduous vegetation comprises of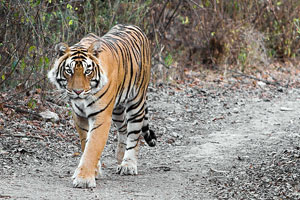 the topography.

Ranthambore National Park was originally a hunting ground of the Maharaja of Jaipur. Ranthambore was declared as a game sanctuary in 1955. In 1973 this reserve was protected under Project Tiger and in 1980, it became a National park. The Ranthambore National Park is one of the state's well known tiger reserve under the Project Tiger. Presently the Kaila Devi Sanctuary, also famous for its tigers and Mansingh Sanctuary also form part of Ranthambore Reserve covering a total area of 1334 square km. The core area is just about 392 square km. The landscape, with its lakes, vegetation, the second largest banyan tree, and the fort, make it one of the most picturesque parks in the country.

Wildlife Attractions in the Ranthambore National Park
Ranthambhore National Park is one of the best place to see the tigers, the majestic predators and thus they are the main attraction of this park. This park has also shown that the tigers can live and breed in close proximity to the human settlements. The tigers can be spotted quite often even during the day, when they are hunting and taking care of their young ones. Other wild animals found in the park are the Leopards, Caracals, Jungle Cats, Hyenas, Jackals, Sloth bear, Deer, Antelopes, Nilgai, Sambhar, Chital, Chinkara, Wild Boar, Porcupines, Indian Hare, Mongoose and Marsh Crocodile. The lakes and water holes in the Ranthambore National Park are the best places to sight the animals. These water bodies are full of lotus and water lilies. Resident and migratory birds can also be found in Ranthambore National Park. There are about 264 species of birds found within the park.

Best Time to Visit Ranthambore National Park
The best time to visit this park is from November to March. You can visit the park either by having a Jeep or a Canter Safari. There is a guide which will accompany you during the safari in the park. In the park, one must stick to the allocated route.

How to reach Ranthambore National Park
By Air:
The nearest airport is at Jaipur which is connected to all the major cities of India.

By Rail:
The nearest railway station is at Ranthambore which is connected to many major cities of India.

By Road:
Rajasthan roadways run very comfortable deluxe buses from Jaipur to Ranthambore. The roads are very good and it takes around 4 to 5 hours from Jaipur. Jeeps can also be hired from several places to travel around.