Kumarakom
Information about Kumarakom
Kumarakom is the famous backwater tourist destination and most fascinating paradise in Kerala, located about 12 kms from Kottayam. Kumarakom is situated on the banks of the famous Vembanad Lake amidst mangrove forests and coconut groves and can be reached through a voyage from Alappuzha. Kumarakom is an enchanting picnic spot and provides
boating, fishing, houseboat cruises and sightseeing experiences to the tourists that are truly exhilarating. On the scenic Vembanad lake you will come across plenty of traditional country crafts or houseboats, boats and canoes. The backwater houses a variety of fauna, flora and marine life. Kumarakom enjoys a well balanced tropical climate. The temperature ranges between 16 to 38 degree Celsius. The best time to visit Kumarakom is from November to March.
Tourist Attractions in Kumarakom
The main tourist attraction in Kumarakom is the Kumarakom Bird Sanctuary. The Kumarakom Bird Sanctuary is a world famous bird sanctuary and an ornithologistís paradise. Some migratory birds migrate during the winter from across the world including the Siberian stork. The other tourist attractions in Kumarakom are Aruvikkuzhi Waterfalls, Pathiramanal and Elaveezha Poonchira. More....
Accommodation in Kumarakom
Kumarakom is also the home of various sprawling ethnic waterfront resorts. These resorts offer comfortable accommodation and exclusive leisure options like an Ayurvedic massage, yoga, meditation, boating, fishing, angling and swimming. The adventurous could indulge in water sports like windsailing and waterskiing.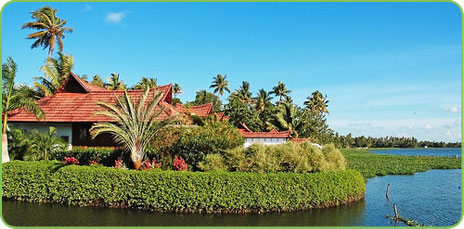 Lake Resort Kumarakom
Backwaters in Kumarakom
Kerala is known for its panoramic backwater stretches, lush green paddy fields, highlands and beaches. The major backwater stretch is located in the Kottayam district, where a network of rivers and canals empty into the Vembanad Lake. It is incredibly different experience to cruise in the backwaters in country boats, absorbing the beauty of Kerala villages.

How to reach Kumarakom
By Air:
The nearest international airports are in Cochin, Kozhikode and Trivandrum in Kerala. There are regular flights to Mumbai (Bombay) and Chennai (Madras). From the Cochin International Airport it is about 85 km by road to the Muhamma boat Jetty. From the Trivandrum International Airport it is about 175 Km by road to the Muhamma boat jetty.

By Rail:
The nearest railway station is located in Kottayam, about 16 kms from Kumarakom. Kottayam is linked to all major cities in Kerala and India and numerous trains run on this route daily. Bombay, Chennai and Bangalore are well linked with Kottayam. You could also take the south bound train from Cochin, via the Alleppey route.

By Road:
Kumarakom is about 88 kms. from Kochi and 16 kms. from Kottayam.

By Water:
From Kollam, one can take take the regular ferry service to Alleppey - a long and delightful ride on Kerala's backwaters. From Alleppey, it's just a short ride to Kumarakom. There are many boat services offered at Kochi to Alleppey.