Welcome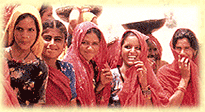 Rajasthan Tours - Most visited Destinations of India
Rajasthan is one of the most fascinating regions in India, with one of the oldest civilizations and extremely rich cultural heritage. The State of Rajasthan ........

North India Tours
The Northern part of India is full of diversities and wonders. North India has got its brilliant past and lively present in the form of forts, palaces and temples.....

East India Tours
East India comprises of 10 states mainly West Bengal, Sikkim, Orissa, Bihar and some of the North eastern Hill States. They all lie in the eastern part of India....

South India Tours
South India is made up of 4 states mainly Andhra Pradesh, Karnataka, Kerala and Tamil Nadu. South India is famous for its natural beauty and rich cultural....


Kerala Tours
Kerala, the god's own country is situated on the south western tip of India. Kerala is one of the famous tourist destination in Asia and offers everything to the tourists. Welcome.....


Gujarat Tours
Gujarat is one of the most diverse states in India. The state of Gujarat is known all over the world for its holy temples, historic capitals, wildlife sanctuaries, ......

Kashmir Tours
The Himalayan Valley of Kashmir is known all over the world for its beauty and charm. The Jammu and Kashmir state is a very large State & comprises of three distinct regions....

Himachal Pradesh Tours
Himachal Pradesh is situated in the heart of the western Himalayas. Shimla, a beautiful hill station is the state capital of the Himachal Pradesh is Shimla, largest city .....

Ladakh Tours
Ladakh is among the most beautiful places in the world which is situated at a height of 3513 meters above sea level. Ladakh is situated on the western end of end of the .....

NorthEast India Tour
The partition in 1947 was greatly responsible for the region's separation from India, but the tourism has been recently promoted in the north-eastern....

Sikkim Tours
Within its area East India encapsulates some of the most striking contrasts in the sub continent. Sikkim has so rich of flora, fauna and diverse population as no .....

Nepal Tours
Nepal, the only Hindu kingdom of the world is situated between Tibet and India. Kathmandu is the cultural and political centre of Nepal and is magnificent for its wealth of unique .....

Bhutan Tours
Bhutan is among the most beautiful places in the world with its neighbors India and China. Its official name, Druk Yul means "Land of Thunder Dragon", portrayed on the flag....

Tibet Tours
Tibet is a homeland of six million people. The significance of Tibet landscaping is not only the earth's highest mountains but also a vast arid Plateau and majestic river valleys....

Adventure Tours
The adventure tours are the best way to explore the unexplored regions in India. In these tours you will travel to the exotic mountain valleys, experience Rafting in the Rivers of India....

Bird Watching Tours
Bird Watching means the activity of observing birds in their natural habitat, where one can identify the birds and understand what they are doing....

Wild Life Tours
The wildlife sanctuaries enables one to view the most unique animals and birds existing in India and also have some close encounter with them. Ask us for your tailor made....
Rajah Island Resort - Kerala
Information about Rajah Island Resort
Rajah Ayurvedic Hospitals has two Ayurveda centers, one of them being Rajah Islands. The other center, Rajah Healthy Acres is situated on a 180 acre area on a hilly terrain in Kerala, India and offers Ayurveda related services and also manufactures Ayurvedic medicines and related products.

Rajah Ayurvedic Hospitals would soon be having one more Ayurvedic center on a beach in Kerala, India.

Rajah Islands consists of three Islands on the backwaters of Kerala. The main Island has an area of 14 acres and has the main building with suite, deluxe rooms, double rooms and a multi cuisine restaurant. Cottages for stay and treatment rooms for Ayurveda treatments overlook the waters. Another building on the main Island houses the doctor's consultancy rooms, pharmacy, and a conference hall. Apart from these, a building for prayers, paved walkways, children's play area and boat landings are also available on the main Island.

The second Island is connected to the main Island by a bridge over which people can walk. House boats are docked at this Island and a small treatment cottage is also available here. The Island has an area of five acres.

The pleasant and calm atmosphere with waters and excellent natural beauty surrounding the Islands, relaxes one physically and mentally, thus tuning him or her to respond well to Ayurveda related treatments.

The third Island is slightly away from the two above mentioned Islands and is about 30 acres in area. The Island is currently left in its natural form and is not being used for any sort of services or cultivation.
Accommodation at Rajah Island Resort
Choose from a variety of double bed rooms, suites, cottages and house boats to stay in, which includes a three bed room Kashmiri house boat & a Rajah house boat.

Kashmiri Hous Boat: Three air conditioned bedrooms with attached bath, dining room, living room and sitout.
Paneled with Deodar wood from Kashmir with excellent engravings on the panels. Area: 2172 square feet.

River View Cottage: Two air conditioned bedrooms with attached bath and sitout facing the river.
Area: 743 square feet.

Lotus Cottage: Two air conditioned bedrooms with attached bath, verandah facing the backwaters
Area: 775 square feet

Coconut Hut: One air conditioned bedroom with attached bath and verandah facing the bacjwaters. The cottage is built on four coconut palms
Wooden structure. Area: 706 square feet.

Suite: Two air conditioned bedrooms with attached bath and Verandah.
Area: 841 square feet

Deluxe Room: One air conditioned bedroom with attached bath.
Area 471 square feet.

Double Room A/c: One air conditioned bedroom with attached bath. Area 228 square feet.

Mangrove Cottage: One hexagon shaped A/C bedroom with attached bathroom and verandah facing back waters, T.V and telephone.
Ayurveda at Rajah Island Resort
Ayurveda - Frequently asked questions, Treatment methods & Routine at Rajah Islands.

What Is Ayurveda: Literally Ayurveda means the science of life. It considers the human body as a whole including mind and soul.

Ayurveda considers disease as a deviation from the normal state of the body and the treatment is intended to bring the patient to the normal state.


Tridosha Theory In Ayurveda: Ancient Indian philosophy says that all the substances in the universe are made up of five basic particles or elements.

These are: Prithvi (earth), Ap (Water), Thejus (fire), Vayu (air) and Akasha (ether). The different combinations of these five elements occur in various materials.

In case of the living organisms, in order to explain the body functions, these five elements can be consisted into three functional factors called vata, pitha and kapha. These are called tridoshas. In each and every person, the quality of these three will be different as there is much difference in structure and function between persons.

Consultaion And Diagnosis: The above principles are followed at Rajah Islands for consultation, diagnosis and treatment. First of all a doctor thoroughly evaluates a patient's problems and body conditions. The patient should feel free with the doctor and discuss his or her mental and physical conditions in his or her own words. Only if conditions are communicated with out reservations will the doctor be able to come to clear conclusions about the dosha conditions of the patient's body and mind.

Ayurveda FAQ: Frequently asked questions about Ayurveda.

Treatment Methods: Rajah Islands offers many Ayurvedic treatments. A brief discription about these treatments can be read here.
Facilities at Rajah Island Resort
Rajah Islands offers Ayurveda related treatments giving emphasis to adapting the most native and traditional forms of therapy. In addition to Ayurveda, Naturopathic form of treatments are also offered.

To make your stay comfortable, enjoyable and relaxing, various facilities are offered at the Islands. Brief note about these facilities are given below.

Consultation @ Pharmacy: Resident doctors are available at their consultation rooms, next to the main building. A pharmacy in this building dispenses Ayurvedic preparations as per doctors' advices. There is also a medicine sales unit at the reception in the landing area. Ayurvedic medicines used at Rajah Islands are made at Rajah Healthy Acres, another unit of Rajah Ayurvedic Hospitals, to which Rajah Islands belong. Another building with a view of the waters, houses the treatment rooms.

Conference Room: A conference room is situated above the doctors' consultancy. Talks relating to Ayurveda are held in this room occasionally. The room is also used by the guests at other times, for exercises or recreation.

Yoga & Exercises: A Yoga instructor conducts Yoga classes each day. Paved pathways with a view of the waters allow guests to take long walks. Resting areas close to these pathways are available for people to relax on.

Recreation: A pool with a view of the waters and the main building; facilities for indoor and outdoor games and a small library, are available to the guests.

For The Children: A play area is available for the children.

Boating: Rajah Islands offers boating trips ranging from half hour to hours preferred by the guests. There is a boat that can seat a 100 people as well as smaller boats including speed boats. The scenic beauty of the backwaters of Kerala is well known and tourists and guests love cruising in these waters enjoying the lovely natural beauty of these areas. Most facilities at Rajah Islands are available only to the resident guests of the Islands. But boating services are available to all.

Site Seeing & Culture Shows: Thrissur the head quarters of the district in which Rajah Islands is situated, is known as the cultural capital of Kerala. Temple festivals are one of the venues at which cultural events are performed. Rajah Islands occasionally organizes trips to visit these events. Sometimes traditional arts like Kalari are performed at the Islands.

How to reach Rajah Island Resort
Rajah Island Resort located from Cochin / Kerala. 80 km Only reachable by boat to an island in the middle of the picturesque scenery of the lagoon backwaters.
To enable us to send you the rates of the Ayurveda packages of the above resort, we need to have the number of participants and the dates from you. (Query)