Day 01. Flight to India (Delhi)
Today arrival in Delhi. The cosmopolitan City and capital Delhi is the main gateway for travelers. You are met by an Indo Vacations representative and transferred to your Hotel.

Day 02. Delhi - Nawalgarh (about 265 km / 6-7 hours)
Today morning we drive to Nawalgarh. Royal Welcome on arrival at the Roop Niwas Kothi which lies just a kilometre from the town and is a fascinating blend of European and Rajput style of architecture. The Palace has a lovely, spacious lawns, a billiard room and a swimming pool. After lunch you will be taken to the stables where you will be introduced to all the team for the safari. It will be followed by a briefing on Horse riding in India. Later Devendra Singh will introduce each member to his horse and also advise them how to ride them. The guests then ride around the field tracks near the Palace to get accustomed to their horses. In case riders are not comfortable they can try another horse. Nawalgarh in the Shekhawati region in Rajasthan's districts of Jhunjhunu & Sikar is known for the painting houses or " Havelis " of its wealthy merchant class, the Marwaris. This region could be called the open-air art gallery of Rajasthan. The drive to Shekhawati is through picturesque village and farms. Founded in 1737 AD by Thakur Nawal Singh, a warrior statesman, whose name is enshrined in history and folklore. The town exudes an old world charm and the colourful bazaar has the largest number of painted Havelies in Shekhawati.
Overnight stay at Roop Niwas Kothi.




Day 03. Nawalgarh
Today morning we ride out with picnic breakfast to the countryside, We return at the time of lunch. Afternoon free time at the palace optional to invite ladies to decorate the palms of lady guests with henna. Then sightseeing of Nawalgarh by car with guide visiting havelis, to see frescos and painted houses.
Overnight stay at Roop Niwas Kothi.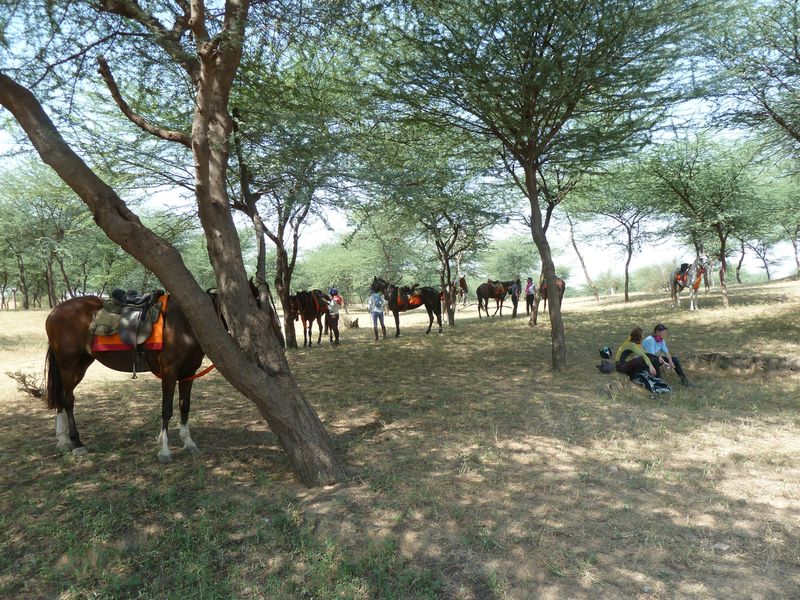 Day 04. Nawalgarh
Today morning we ride around Nawalgarh. During the ride we visit farmhouses and village homes of people who keep local horse breed the Marwari horses. We also visit the stables and have interactive meetings with the farmers. Picnic lunch en route. Afternoon talk by Marwari horses followed by interactive discussion. Interactive discussion on how to encourage local horse lovers to continue to keep Marwari horses and beliefs of Indian people about horses. Traditional folk entertainment and dinner.
Overnight stay at Roop Niwas Kothi.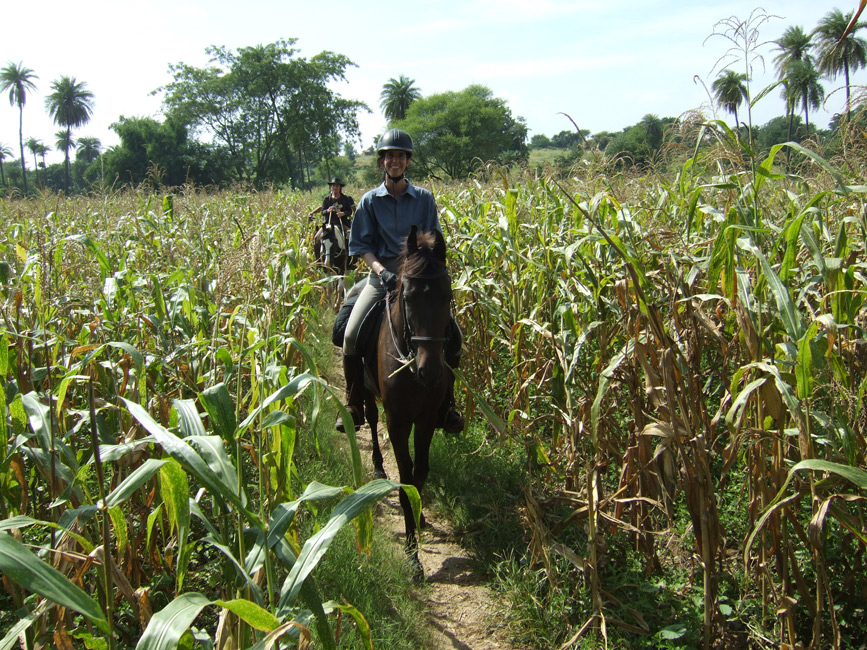 Day 05. Nawalgarh - Churiajitgarh - Nabipura (about 26 kms)
Today we ride through semi desert areas with small farms and country side dotted with Khejri trees. En route picnic lunch. Then we ride through semi desert farm countryside to reach a small woodlot and dry waterhole surrounded by Ker bushes many flocks of blue bull antelopes may be seen around campsite.
Overnight stay at the camp.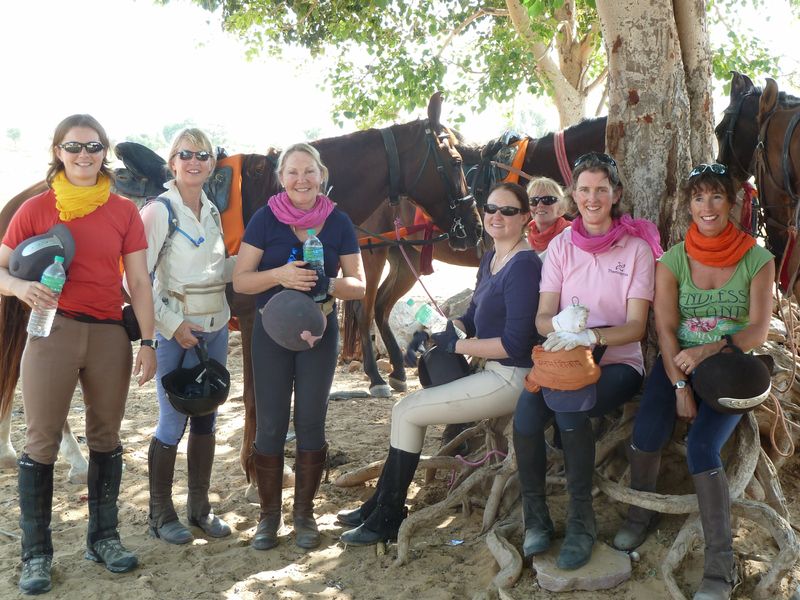 Day 06. Nabipura - Dabri - Fatehpur Beed (about 30 kms)
Today morning we ride through semi desert region and Fatehpur Beed. Picnic lunch near a typical Shekhawati architecture water tank "Johda". The Nawab of Fatehpur 300 years ago has encircled an area riding on a horse from sunrise to sunset and declared it protected. Today Fatehpur Beed is an amazing 70-sq.km area with all species of desert plants. Camping in Beed one gets to see Desert Fox, Jackal / Blue Bull and Deer. The protected area proves that if human don't inter-fear a semi forest can be created in a desert.
Overnight Camp near a ruined travellers home overlooking the entire Beed, it is a most beautiful campsite.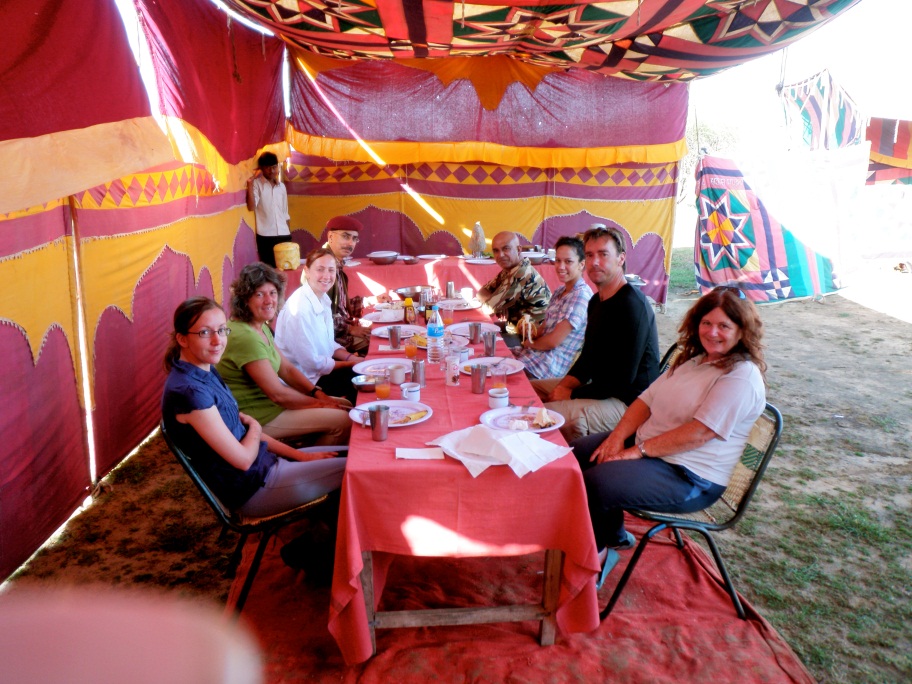 Day 07. Fatehpur Beed - Ramgarh (about 20 kms)
Riding north today we will go further into the Shekhawati region. The sand dunes are dotted with greenery where farmers have found water from deep tube wells. Ramgarh is a town with many painted Havelis, an interesting traditional market place.
Overnight camp in a farmer's field.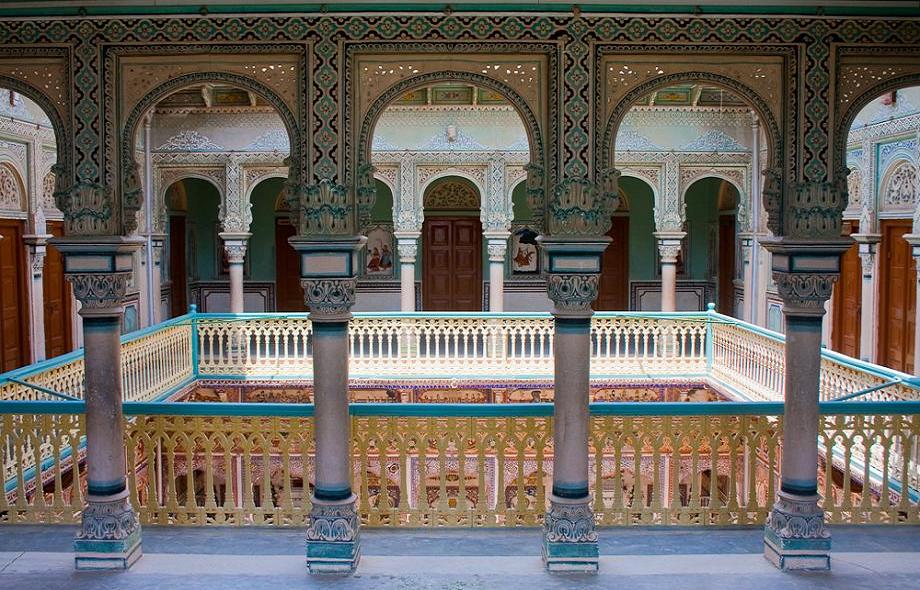 Day 08. Ramgarh - Mehansar Castle (about 24 kms)
Today we will pass through very high sand dunes and desert villages to reach the beautiful small village of Mehansar of Shekhawati region. The hotel is a charming family run hotel with basic comforts but very tasty home cooked food. In case accommodation is not available we will set Camp at Mehansar and would go for a meal with the family at the Castle. Overnight stay at Mehansar Castle / Camp.

Day 09. Mehansar - Lalsinghpura - Mehansar (about 23 kms)
Today we ride out with picnic lunch. Late afternoon sight seeing of Mahensar visiting the Gopinath temple and the famous 'Sone Chandi Ki Haveli'. Overnight stay at Mehansar Castle/ Camp.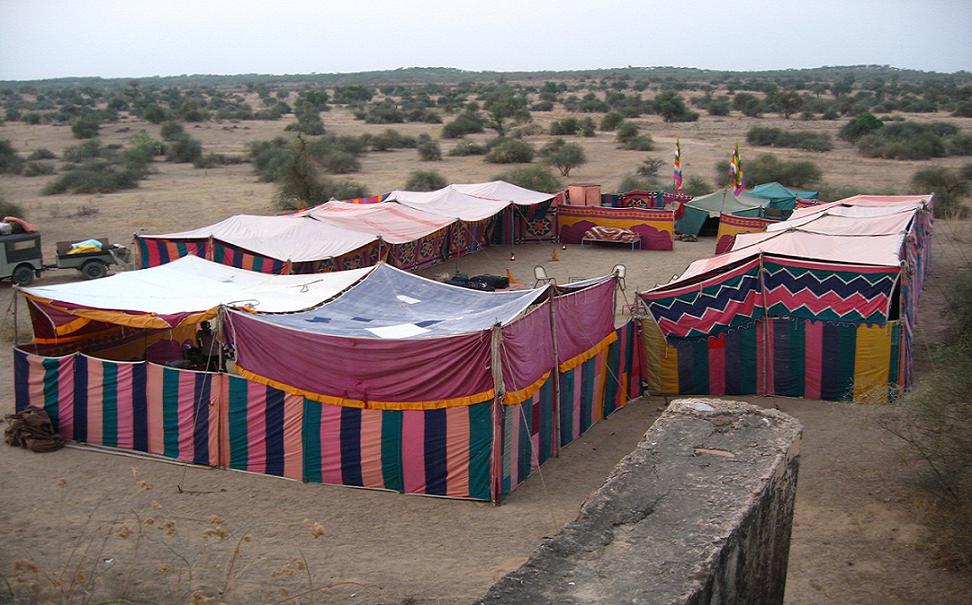 Day 10. Mehansar - Delhi (about 265 km / 7 hours)
Early morning we ride around and say goodbye to our horses. After breakfast we drive to Delhi.

Day 11. Flight to Home
Around Midnight flight to home destination.
About Hotels:
We provide you the accommodation as per your budget mentioned above in the table of hotels category for any of the booked tour. Hotels provided by us are from budget to luxury class hotels. Luxury hotels are all five stars or of above standard. Deluxe would be a combination of 3 and 4 star Hotels and standard would be a combination of 2 and 3 star or similar hotels. The criteria for selecting hotels by us remains the best value of your money. We also provide you wherever possible accommodation in heritage hotels. Heritage Hotels are old Palaces, Forts and Grand mansions of Maharajas which have been later renovated and converted into Hotels. Rooms are decorated all individually. Rooms are comfortable, romantic and present the flair of olden Maharaja days.