Day 01. Flight to India (Delhi)
Today arrival in Delhi. The cosmopolitan City and capital Delhi is the main gateway for travelers. You are met by an Indo Vacations representative and transferred to your Hotel. Overnight at Delhi

Day 02. Delhi - Nawalgarh (about 265 km / 6-7 hours)
Today morning we drive to Nawalgarh. Arrive Nawalgarh by lunch time. Founded in 1737 A.D. by Thakur Nawal Singh, a warrior statesman, whose name is enshrined in history and folklore. It has one of the biggest groups of havelis in the Shekhawati. There are literally dozens of them to wander into. Aath Haveli ("Eight Havelis") is interesting, with amusing European influence reflecting in its frescoes. Chhawehhariya and Poddar havelis are perhaps the most splendid. The latter has been converted into what must surely be the worlds most picturesque school. Uttarian Haveli is notorious for its resident ghost. Here, even the telephone exchange has frescoes that are worth seeing. But the piece de resistance is Bala Quila Fort, whose frescoed kiosk is perhaps one of the finest examples of the art in all of Shekhawati.
Rajasthan - Land of the Kings - is steeped in romantic history, chivalry and valour. Formerly known as Rajputana, it boasts of the finest fortress-palaces, built with sandstone quarried from the land itself. In contrast with the pastel shades of the desert landscape are the brightly coloured costumes of its handsome people. With its turbaned men and richly jewelled women, its Havelis and villages, its fairs and festivals, Rajasthan beckons you. In Rajasthan especially, India's Raja's and Maharajahs of the past have turned their palaces & fortresses in cities, hotch potch bazaars, countryside and forests into Hotels. Heritage hotel is a grouping of such 50 such gems, and for a dedicated India 'buff', prepared to face the occasional technical imperfection and eccentricity of service or understanding, a visit to such locations give a rare insight into the world of princely India now largely lost. The Safari tour incorporates some of these atmospheric locations. Royal Welcome on arrival at the Roop Niwas Kothi with horses, camels, folk music flower garlands and non alcoholic welcome drink. Roop Niwas is just a kilometer from the town and is a fascinating blend of European and Rajput style of architecture. The Palace has a lovely, spacious lawns, a billiard room and a swimming pool. Evening meet at the stables over tea, welcome gifts are distributed and Devendra Singh Ji helps guest choose their horse and ride around the palace grounds. Cocktails and detail briefing of the tour and introduction talk on the arid region ecology followed by Dinner.
Overnight stay at Roop Niwas Kothi.




Day 03. Nawalgarh
In the morning we ride out with picnic breakfast around Nawalgarh to get accustomed to the horses. Afternoon sightseeing to Nawalgarh town by car / camel buggy with a guide. Overnight stay at Roop Niwas Kothi.
Cross Country Safari Commences.
Average riding distances are 25-40 kilometers per day.




Day 04. Nawalgarh - Dundlod (about 09 km)
The route will be through picturesque villages and farms. The Safari will move about 20 to 30 Kms a day with a lunch halt and breaks for tea coffee and refreshments. We ride from Roop Niwas Kothi to Dundlod Fort. After having traveled through sandy tracks of Shekhawati we enter the village of Dundlod. The village is famous for its two impressive Goenka Haveli and its painted Goenka Chhatri or cenotaphs. You will stay here as special guests in a quaint fort which stands in the middle of the village, almost Scottish in its design. Inside there is an interesting Mughal-style divan khana or hall, with copies of Louise XIV furniture and old family portraits of the local Thakur (chieftain's) family.
Overnight stay at Dundlod Fort.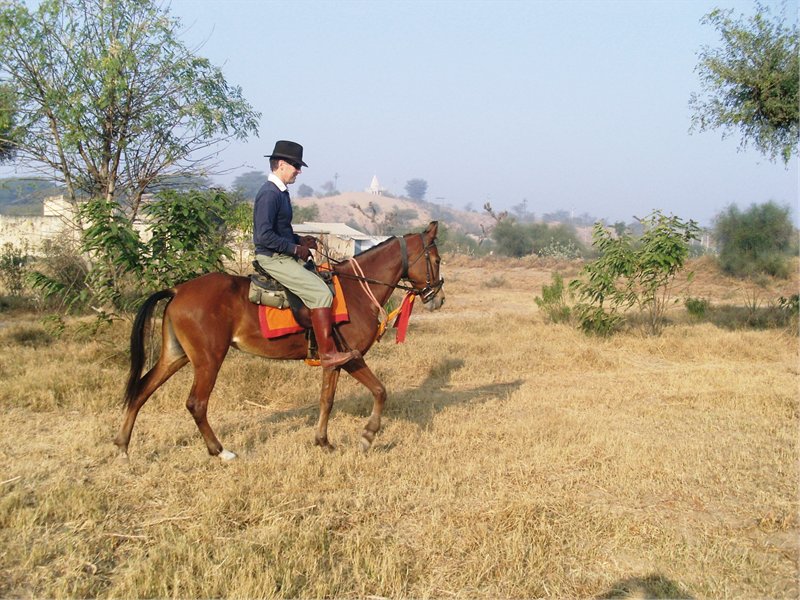 Day 05. Dundlod - Mandawa (about 23 km)
Today we ride from Dundlod Fort to Mandawa Castle. We ride through the town onto dry sandy tracks through farmland and lunch will be in a desert woodlot of Ker bushes at Churi. At this time of the year most land is planted with crops being raised by monsoon rain. Crops being bajra (millet) lentils and guar.
Mandawa was founded in mid-18th century, it has interesting murals in the large rugged fort (1755) built by Thakur Nawal Singh. The Goenka Haveli's worth visiting include Laduram Tarkesvar (1878) and Dedraj Turmal (1898); the Ladia havelis - Gulab Rai (1870) and Sneh Ram (1906), Murmuria (1935), Newatia (1910) and the Saraf (1870) havelis are interesting. The Siva temple here has a rock crystal lingam. The Mandawa Haveli near Sonthalia Gate displays local craft.
Castle Mandawa was built in 1755 by Thakur Nawal Singh, a descendent of Rao Shekha, the founder of Shekhawati. Two imposing gateways lead to the central courtyard where canons stand as a reminder of the past when they were used to repel the enemy. The Diwan Khana (Durbar Hall) looks into the reception and lounge area and provides ample space for the guest to relax over exotic refreshments. The courtyards and the terraces come to life in the evenings with enchanting candle-lit dinners and traditional fire dance. The rooms are large and airy and retained the old flavor using period furniture and local furnishing. They provide a blend of modern comfort in medieval surroundings.
Overnight stay at Mandawa Castle.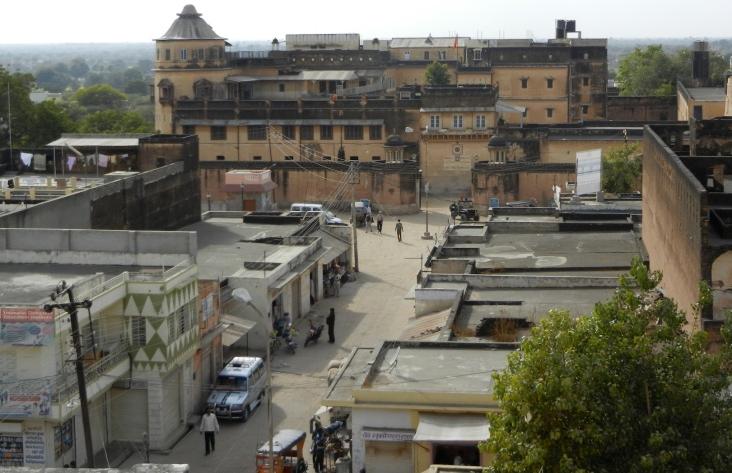 Day 06. Mandawa - Mehansar (about 26 km)
Today we ride from Mandawa Castle to Mehansar Fort. We ride through the town onto dry sandy tracks. We visit a typical local farmer families home at village Dhakas. Lunch halt is near Nangli on a high sand dune "Gogameri". Here there is a temple dedicated to famous folk hero "Gogaji". The area has a large population of peacocks in the wild.
Mehansar was founded in mid 18th century. It is one of less visited towns of Shekhawati, but definitely one of the most rewarding. Sone Chandi ki Haveli ('Mansion of Gold and Silver') which belongs to the Poddar family of jewelers has the finest frescoes in Shekhawati. Don't miss the frieze of the battle scene as delicate as a miniature painting. The Raghunath Temple with beautiful paintings resembling the Bikaner school of art are worth visiting. Overnight stay at Mehansar Fort. A very charming simple basic family run hotel serves delicious food .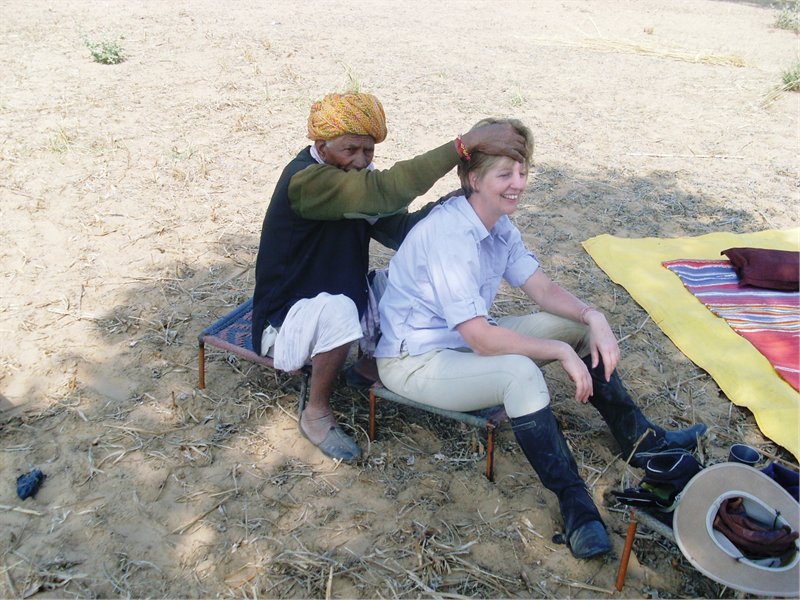 Day 07. Mehansar - Desert Resort / Jainiwas Kothi (about 110 km)
Today we ride from Mehansar Fort to Desert Resort / Jainiwas Kothi. The Desert Resort is recreated in the style of a typical Rajasthani Village. The mystery and romance of the desert are captured in the unusual architecture of the Resort. Created by local craftsmen using mud and brick, the cottages reflect the traditional harmony between man and nature in the region. Each cottage and room is furnished in a distinctive style. The exteriors are decorated with traditional lime paste mandana or rice flour patterns which are redone daily by women from the village, while the interiors are ornamented with mirror-work and glass beads in myriad colors. Authenticity blends seamlessly with modernity. Each cottage has a double bed, an intimate seating area, and a spacious bathroom complemented by woven fabric and hand-made pottery. Apart from the cottages guests can choose to stay in a spacious deluxe suite of rooms furnished with old wooden furniture and designed to recreate the royal ambience of the past.
The Jainiwas is a resort situated next to the desert resort and is a horse ranch type of accommodation. The cottages have a horse ranch type design .
Overnight stay at Desert Resort in Mud Cottages or Jainiwas Kothi.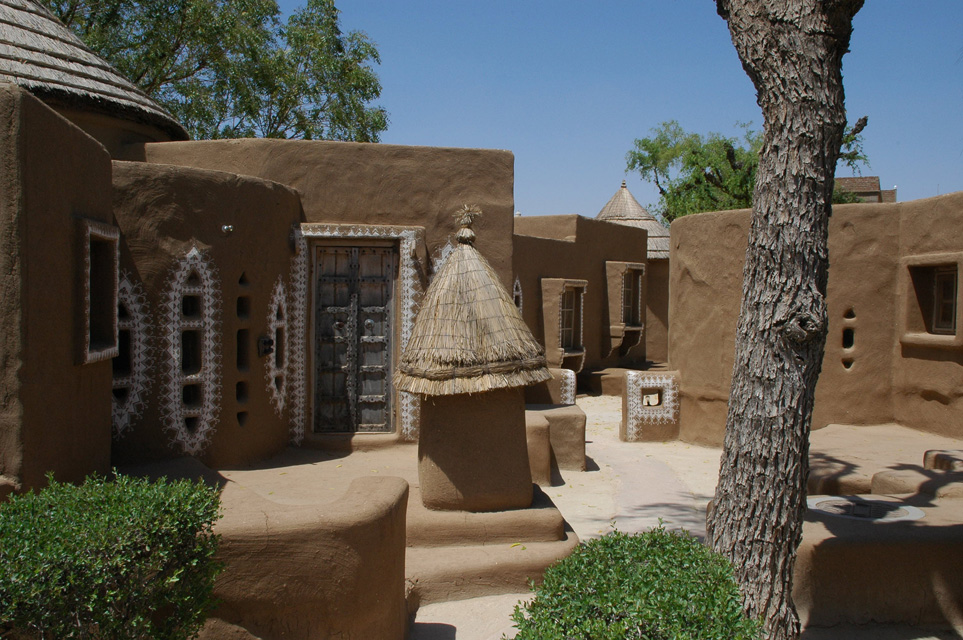 Day 08. Desert Resort - Naharsinghani (about 21 km)
Today we ride from Desert Resort Mandawa to Kothi Naharsinghani. The ride takes us through semi-desert farming country a typical Shekhawati landscape - field dotted with Khejri trees - low sand dunes, small villages with common grazing woodlots with desert flora and fauna. The route will be Desert Resort to Phuskhani village - Churi Ajitgarh - Mukangarh - Naharsinghani.. Picnic lunch en route. On arrival stay at Naharsinghani Farm house. The Farm was a desert retreat of the erstwhile Mandawa Family. It is a working farm. Evening traditional folk entertainment around a camp fire followed by a traditional Indian meal. A talk will also be given on the history of the region and customs and traditions that are prevailing in India.
Overnight stay at Naharsinghani Farm house. (Accommodation in Rooms with modern western style toilets) or in oriental Shamiana type tents pitched in the courtyard depending on the weather.

Day 09. Naharsinghani - Nawalgarh (about 14 km)
Today we ride from Kothi Naharsinghani to Roop Niwas Kothi Nawalgarh. Overnight stay at Roop Niwas Kothi.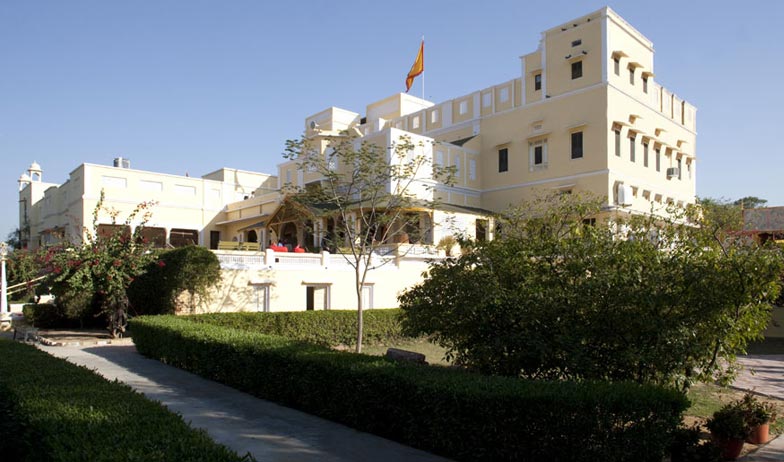 Day 10. Nawalgarh - Delhi (about 265 km / 6-7 hours) - Departure
Today morning after breakfast we depart from Nawalgarh to Delhi by private car / coach to connect international flight the same evening.
About Hotels:
We provide you the accommodation as per your budget mentioned above in the table of hotels category for any of the booked tour. Hotels provided by us are from budget to luxury class hotels. Luxury hotels are all five stars or of above standard. Deluxe would be a combination of 3 and 4 star Hotels and standard would be a combination of 2 and 3 star or similar hotels. The criteria for selecting hotels by us remains the best value of your money. We also provide you wherever possible accommodation in heritage hotels. Heritage Hotels are old Palaces, Forts and Grand mansions of Maharajas which have been later renovated and converted into Hotels. Rooms are decorated all individually. Rooms are comfortable, romantic and present the flair of olden Maharaja days.