The "Bala Kila" or the Bala Fort is perched on the most prominent hill of Aravallis range which explains the tales of the rich history of the city. It is the massive medieval fort with 15 large and 51 small towers, 446 openings for musketry and 8 huge towers and rises about 3000 m above the city. This fort is also known as the Kunwara Kila. This huge fort is famous for its history, which predates the Mughal rulers. It runs 5 km from north to south, and nearly 2 km from east to west.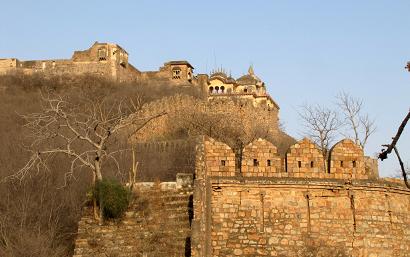 Some of the Mughal rulers are reported to have stayed there before it reverted back to the Rajput rulers in the 18th century. The fort is circumscribed with several gates known as Pols. A few of which are named after various personalities. e.g. Jai Pol, Laxman Pol, Suraj Pol.

In this fort the Mughal Emperor Babur decided to make a night halt here, but succumbing to innate greed, he raided the hidden treasures in the toshakhana and took the booty home to shower on his son Humayun. Salim Mahal, which lies in ruins now, is said to have been the palace where Prince Salim — later the Mughal Emperor Jehangir — spent his three-year exile.