Day 01. Flight to India (Delhi)
Today arrival in Delhi. The cosmopolitan City and capital Delhi is the main gateway for travelers. You are met by an Indo Vacations representative and transferred to your Hotel.

Day 02. Delhi - Nawalgarh (about 265 km / 6-7 hours)
In the morning drive from Delhi to Nawalgarh in the Shekhawati region of Rajasthan. Nawalgarh is known for the havelis of its wealthy merchant class, the Marwaris. The drive to Shekhawati is through picturesque village and farms. Nawalgarh was founded in 1737 AD by Thakur Nawal Singh, a warrior statesman. The town depicts an old world appeal and the beautiful bazaar has the biggest number of painted Havelis in Shekhawati. Upon arrival at Roop Niwas Kothi you will be welcomed with flower garlands, folk music, and welcome drink. The Kothi is located about 1 km from the town and is a combination of Rajput and European architecture. The Kothi is very beautiful, has a billiard room, large lawns and a swimming pool. Today is the Diwali festival. Festival of lights. We celebrate the festival at the Kothi.


Day 03. Nawalgarh
Today morning we assemble at the stables, where you will be introduced to the safari team and the lovely 'Marwari' horses and can also have a ride. The riding leader will advise about the horses and give the details about the tour and introduction talk on the arid region ecology followed by lunch. We ride on our horses with picnic Tea to the country side. Overnight at Roop Niwas Kothi, Nawalgarh.

Day 04. Nawalgarh
Today morning we ride on our horses to various farms and meet village folk with a Picnic Breakfast. In the afternoon we have visit the town of Nawalgarh and various Havelis with beautiful fresco and painting.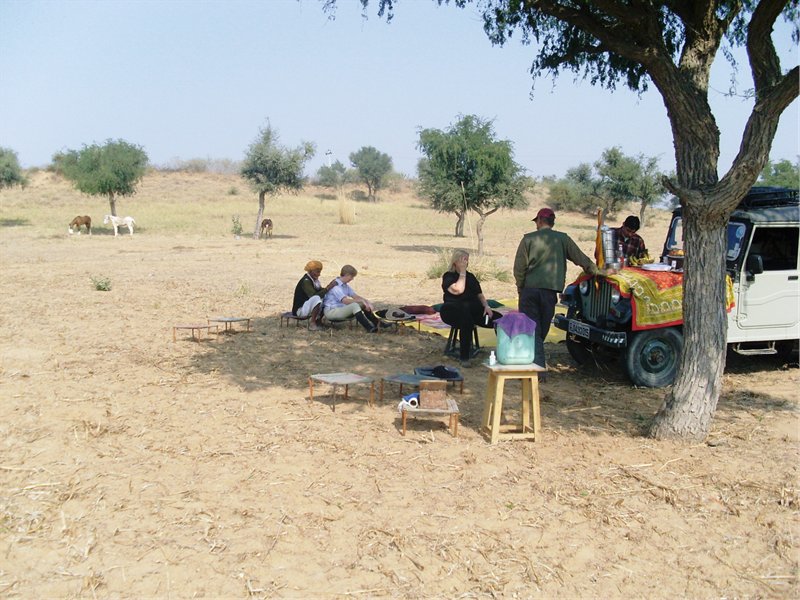 Day 05. Nawalgarh - Parasrampura - Lohargal
In the morning you will start with our horse safari to Lohargal. We will follow a dry riverbed with lots of Acacia bushes. The view of Aravali ranges makes the ride very scenic. In the afternoon lunch will be served with folk musical presentation near Parasrampura. After lunch you will move towards the Aravali mountains. At the foothills of Aravalli's is the Pilgrim town of Lohargal. It is believed that Bhima, one of the heroes of the epic Mahabharat, the strongest of the five Pandav brothers, had his mace cast here. Hence, 'Lohargal', means iron smelting. This is also a place of Hindu pilgrimage. Overnight stay at Birla Rest House.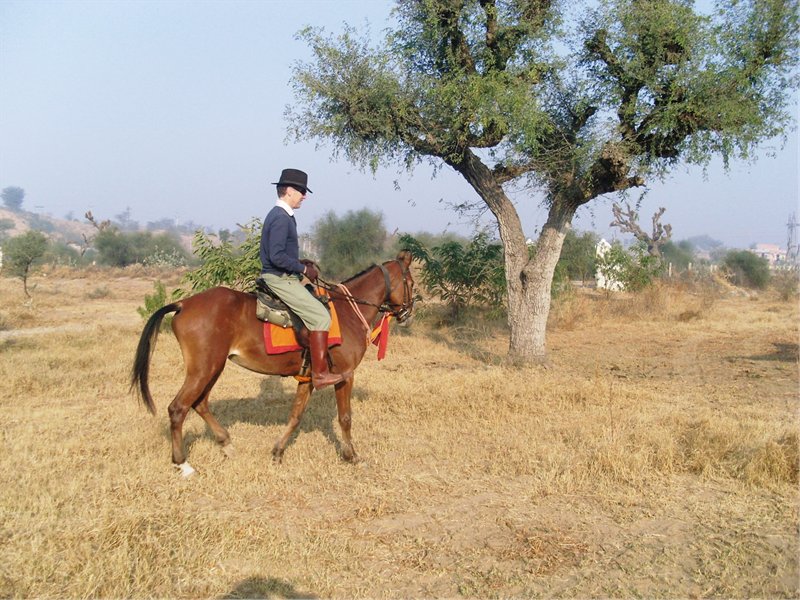 Day 06. Lohargal - Rewasa - Shyamgarh
Today is a Non Riding Day. We will visit rewasa temple and kochor village. In the morning riders are taken by Jeep in the southwest direction in order to cross the new 6 lane free way (Jaipur-Bikaner). We do not consider it safe for rider to cross this free way on horse/the newly fenced forest area via a mountain pass at Roopgarh, Rides will go past village Ghatwa, Here a famous battle had taken place between Rao Shekha and Gour Rajputs where twenty five thousand men laid their lives. The area is still known "Godati" the area of "Gaurs" the erstwhile rulers. Lunch will be served at an ancient water hole. Afterwards we drive to the campsite, situated on the surrounding of Shyamgarh fort enclosed by Ker bushes. Overnight stay at Camp. The horses have been moved by boxes.

Day 07. Shyamgarh - Bhagwanpura - Nawa Salt Lake (about 42 Kms)
Morning ride towards Nawa Salt Lake. This ride is the most picturesque part of this Safari. Lunch will be served on the way. After lunch we pass through the periphery of the 100 Sq. Kms Salt lake. Enroute we will also spot various shepherds and sheep flocks. While at the camp site the view of beautiful sunrise and sunsets are amazing which are not to be missed. Overnight stay at Camp.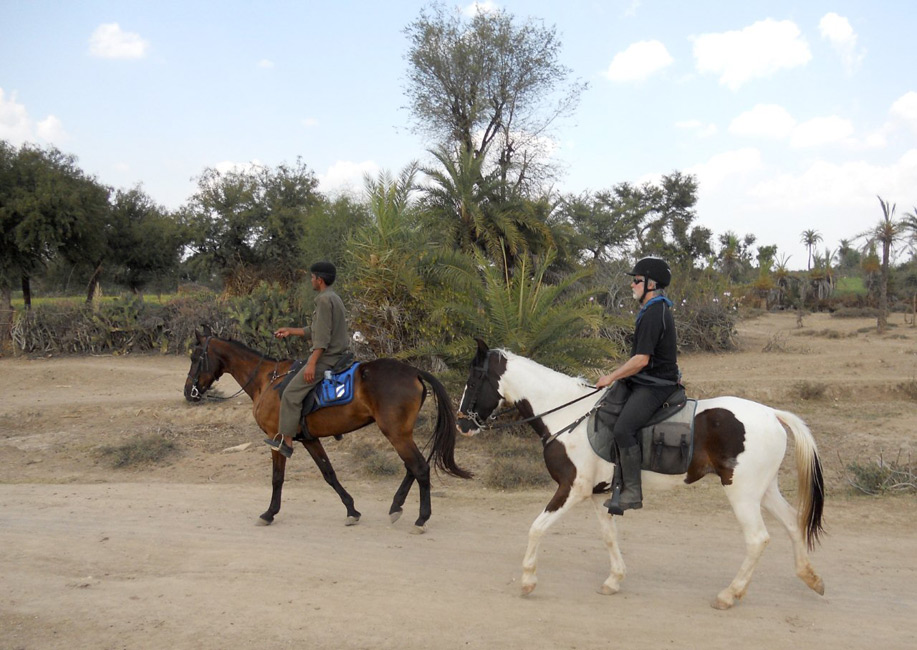 Day 08. Nawa Salt Lake - Salemabad (45 kms)
Today we ride through the Salt Lake for about 10 km then follow a stony track along mountain ranges. Lunch will be served on the way at Paner. After lunch we ride into farming and Sheep County to reach the campsite which is situated in a dry water catchments area with surroundings of "Kuncha" grass and scenic Aravali Mountain in the setting. This was the territory of the former maharaja state of kishengarh. The remaining Ajmer region being governed directly by the British. The people of Ajmer have colourful dresses and elaborate noticeable bright colored turbans.

Day 09. Salemabad - Babicha - Mayapur (35 kms)
Today we will ride on our horses to Mayapur. Most of the farmers of the village belong to Gujar community with colourful dresses. En route we will also visit a Gujar Shepard's dwelling. After taking lunch we ride into a valley to go through a mountain pass and proceed to reach last campsite of our tour.
Day 10. Mayapur - Charanwas - Pushkar
Today we will ride about 25 kms till Pushkar. Pushkar is famous for typical Pink Indian roses that have a strong aroma. In the afternoon you will reach Pushkar. Pushkar is known for the famous Pushkar fair which takes place in November. Upon arrival in Pushkar we visit the Pushkar Camel and Cattle Fair. During this fair, traders and pilgrims visit Pushkar for livestock and camel trading and other festivities. Pushkar fair ends when the people assemble at dawn to take a dip in the sacred waters on the night of the Full Moon (Kartik Poornima). Overnight stay at Tourist Tented Camp, Pushkar.
Day 11. Pushkar
Today we explore the incredible camel & cattle fair in Pushkar. Ride morning and evening with Safari leader Shri. Devendra Singh Ji.
Overnight stay at Tourist Tented Camp, Pushkar.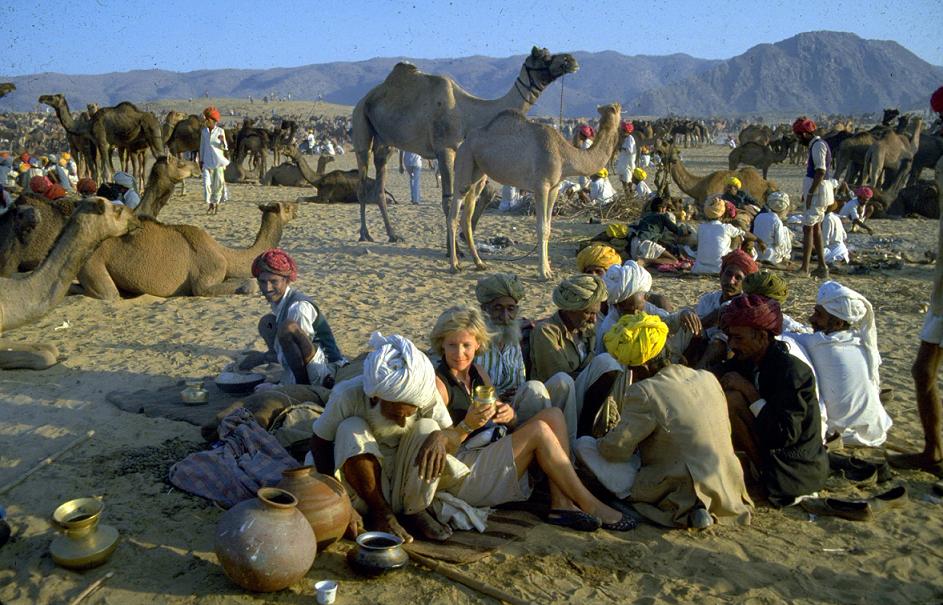 Day 12. Pushkar - Jaipur (about 145 km / 2-3 hours)
Today morning we visit the fair and then drive to Jaipur the pink city and capital of Rajasthan. Sightseeing of Jaipur visiting the City palace museum, astronomical observatory and Amber Fort. Then we ascend to the fort by Elephants/Jeep if available.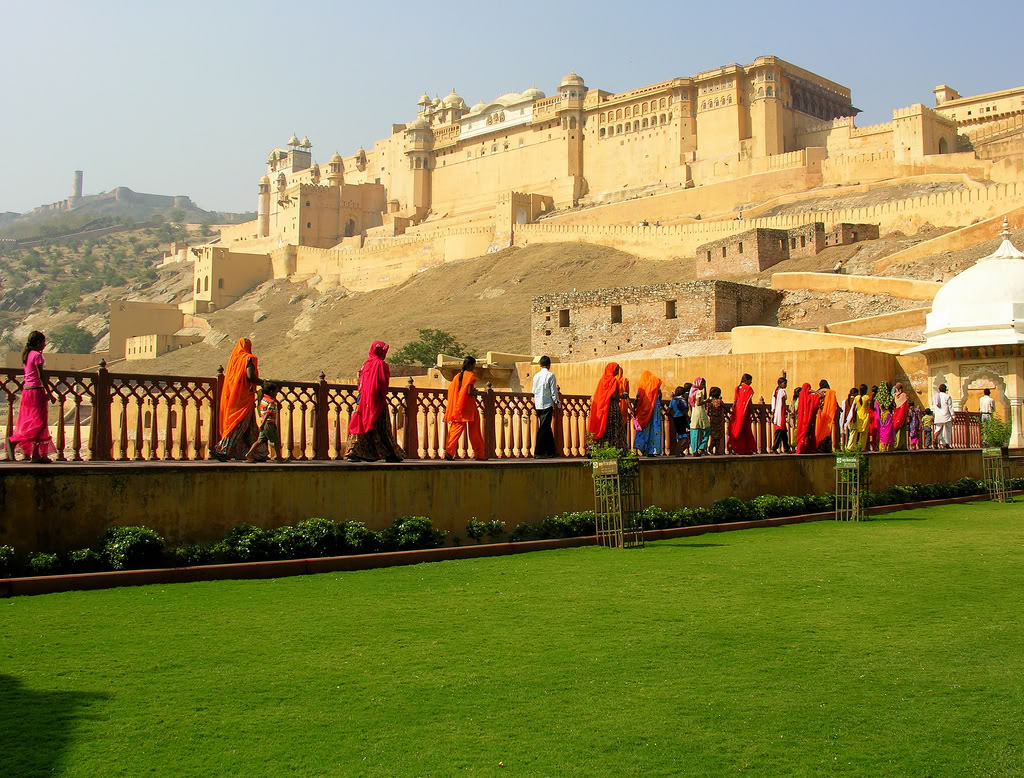 Day 13. Jaipur - Delhi (about 245 km / 5 hours)
Today morning we drive from Jaipur to Delhi. Arrival in Delhi and transfer to hotel. Rest of the time free for leisure.
Day 14. Flight to Home
Around Midnight flight to home destination. (End of our Services)
About Hotels:
We provide you the accommodation as per your budget mentioned above in the table of hotels category for any of the booked tour. Hotels provided by us are from budget to luxury class hotels. Luxury hotels are all five stars or of above standard. Deluxe would be a combination of 3 and 4 star Hotels and standard would be a combination of 2 and 3 star or similar hotels. The criteria for selecting hotels by us remains the best value of your money. We also provide you wherever possible accommodation in heritage hotels. Heritage Hotels are old Palaces, Forts and Grand mansions of Maharajas which have been later renovated and converted into Hotels. Rooms are decorated all individually. Rooms are comfortable, romantic and present the flair of olden Maharaja days.